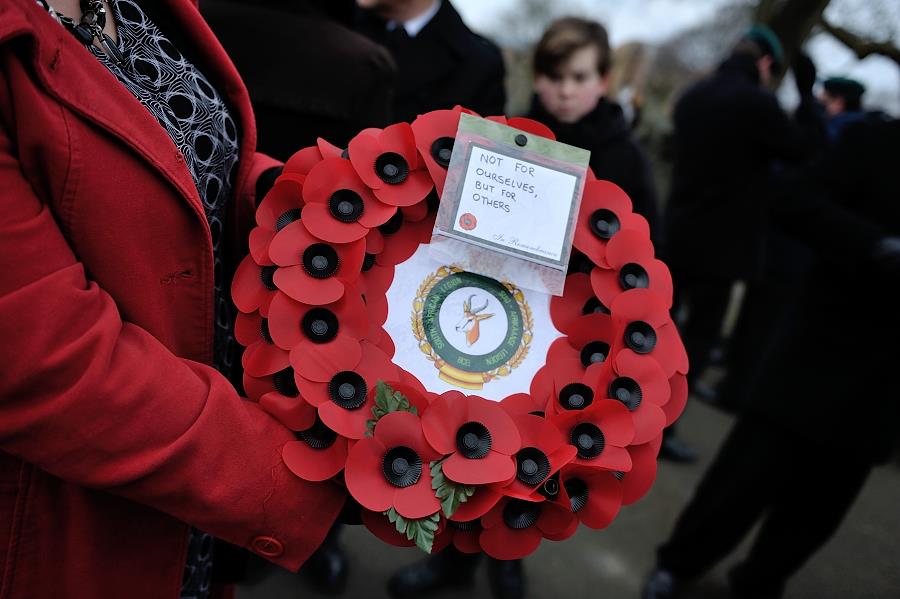 Some more great work from the South African Legion – Port Elizabeth branch – annual Three Ships Service in PE, in recognition of the three ships lost in February with the loss of so many South Africans – The SS Mendi, the MHSAS Southern Floe and SAS President Kruger.
The Annual Three Ships Service was once again held at the St Paul's Church, Tucker Street, Parson's Hill PE on the 22 February 2015. The Service was conducted by the Reverend Marc Barth, the Rector of St Paul's. The Rev Barth has graciously agreed to become the Chaplain for the Legion in Port Elizabeth, replacing the Rev Fr P F Vietri CO who has been transferred to Bloemfontein by his church.
Some 80 Legionnaires, MOTH, Sea Cadet,RAFA/SAAFA, Naval Officer Association, Royal Society, St John Ambulance members and other Friends of the Legion attended the service.
A further coincidence of note was that Mrs Lesley Moore, the granddaughter of CPO MacTavish, a member of the SS Mendi crew who went down with the ship, was among us to pay her respects on the day.
After the Processional Hymn and the welcome, Lgr Brian Klopper (Chairman) read the Legion Prayer – which incidentally he composed!
Thereafter followed the Lesson by Legionnaire Wolfaardt.
Lgr Declan Brennan gave an excellent address, his theme embraced 3 ships which has permeated our history from the time of Jan van Riebeek who arrived with 3 ships; the battle of Muizenberg in which three Royal Navy ships took part, and so on up to the three ships involved in the SAS President Kruger tragic sinking in 1982. The address was enjoyed by the congregation and informative to them as well.
At that point our visitor from the United Kingdom, Mr Nick Ward, rose to give a 10 minute address on his archaeological work on the SS Mendi. Mr Ward has taken a keen interest in the SS Mendi tragedy for some 7 years and flew from London to attend our service. He will shortly be publishing a book titles "SS Mendi – The Long Voyage Home" wherein he recounted not only the story of the sinking but also some of the unhappy decisions by both the UK and South African Governments of that time. We were grateful to him for his flying visit and we thank him for his input.
The Three Candles of Remembrance were lit by three senior SA Sea Cadets from the Port Elizabeth Training Ship Lanherne. The Memorium was performed by Lgr Tertia Morton after which the Service ended with the Recessional Hymn.
Much good harmony and camaraderie was enjoyed in the Church Hall courtesy of the Church Ladies, who put on their usual excellent spread – Thank you ladies and to all those involved with the planning and execution of this annual event.
Article for the South African Legion of Military Veterans by Charles Ross based on the article by Waldie Bartie.
The photos used in this article were taken by Mr Mike Rands of St Paul's Church