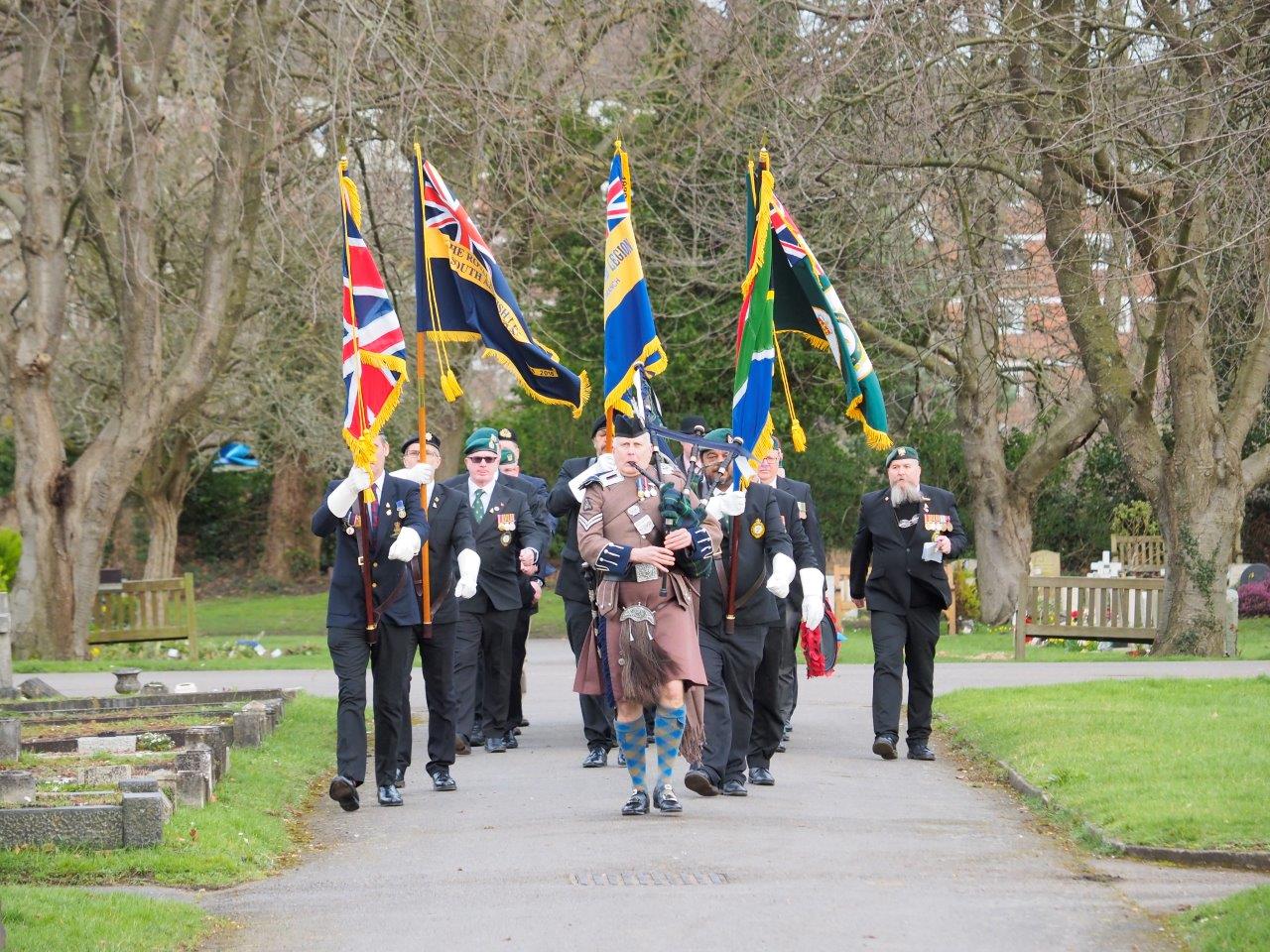 RICHMOND UPON THAMES – On Saturday 22 February, Legionnaires from the South African Legion of Military Veterans (UK and Europe), the Royal British Legion, and representatives of the Memorable Order of Tin Hats (MOTH) gathered at Richmond's East Sheen cemetery for the annual Three Ships Commemoration. We also commemorated and gave thanks for the courage and dedication of the SA Medical Corps.
Following the chapel service, the company, led by the piper, marched with standards to the nearby South African Cenotaph, where the SA Legion, MOTH General Browning and Gazala Shellholes, and a contingent from the Countess Mountbatten's Own Legion of Frontiersmen laid wreaths, accompanied by standard-bearers from the Royal British Legion.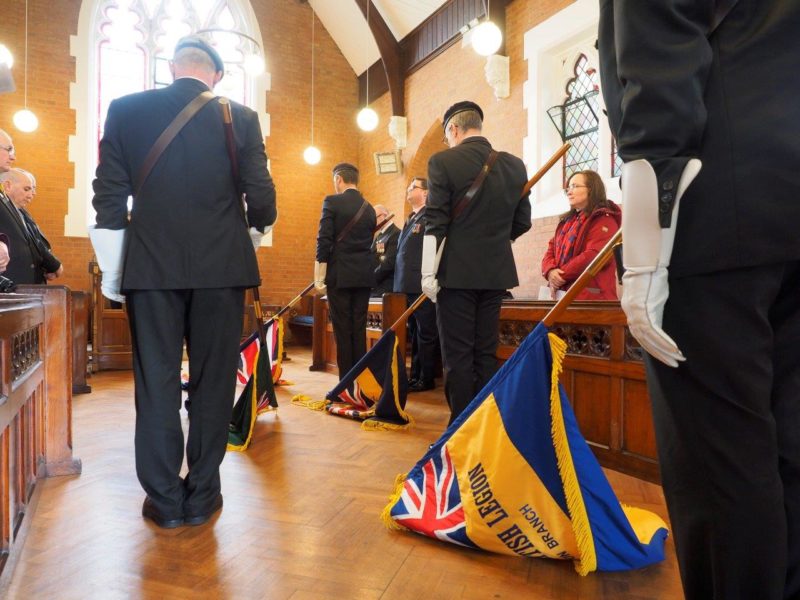 SS Mendi
At 5 am on 21 February 1917, in thick fog about 10 nautical miles (19 km) south of St. Catherine's Point on the Isle of Wight, the Royal Mail Steam Packet Company cargo ship Darro accidentally rammed SS Mendi's starboard quarter, breaching her forward hold.
Darro ,an 11,484 GRT ship, almost three times the size of the Mendi, survived the collision but Mendi sank, killing 616 Southern Africans (607 of them black troops) and 30 crew.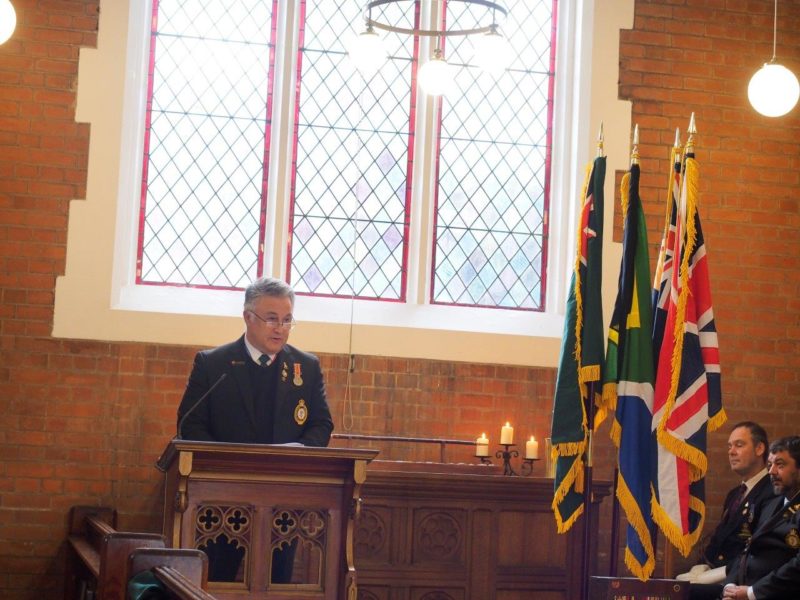 An interpreter, Isaac Williams Wauchope, who had previously served as a Minister in the Congregational Native Church of Fort Beaufort and Blinkwater, is reported to have calmed the panicked men by raising his arms aloft and crying out in a loud voice: "Be quiet and calm, my countrymen. What is happening now is what you came to do…you are going to die, but that is what you came to do. Brothers, we are drilling the death drill. I, a Xhosa, say you are my brothers…Swazis, Pondos, Basotho…so let us die like brothers. We are the sons of Africa. Raise your war-cries, brothers, for though they made us leave our assegais in the kraal, our voices are left with our bodies."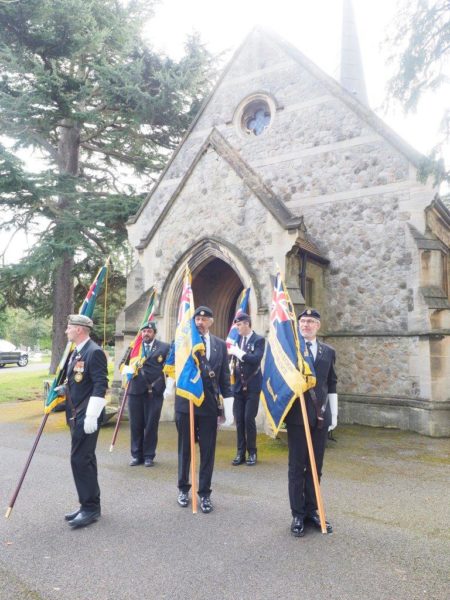 HMSAS Southern Floe
On 11 February 1941, HMSAS Southern Floe, was sunk by a mine off Tobruk with the loss of 27 men, with a sole survivor, Stoker C J Jones. A passing destroyer picked up one man clinging to some wreckage – Stoker Jones was all that remained of Southern Floe and her company.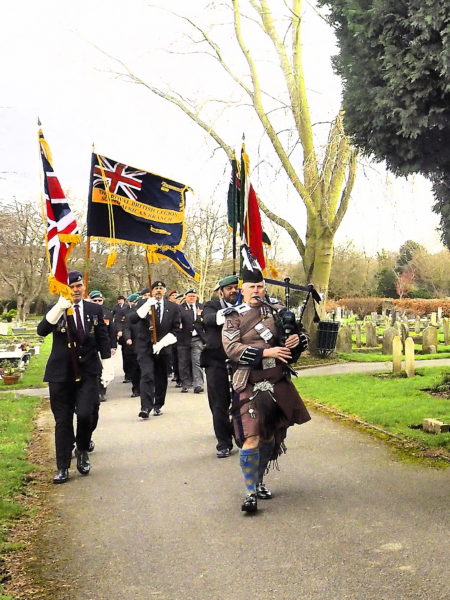 SAS President Kruger
SAS President Kruger was the first of three President-class Type 12 frigates built in the UK for the South African Navy during the 1960s.
The ship spent most of her career training and made visits to foreign ports in Africa, Western Europe and the United States. In the late 1960s, she was modernised and equipped to operate a helicopter.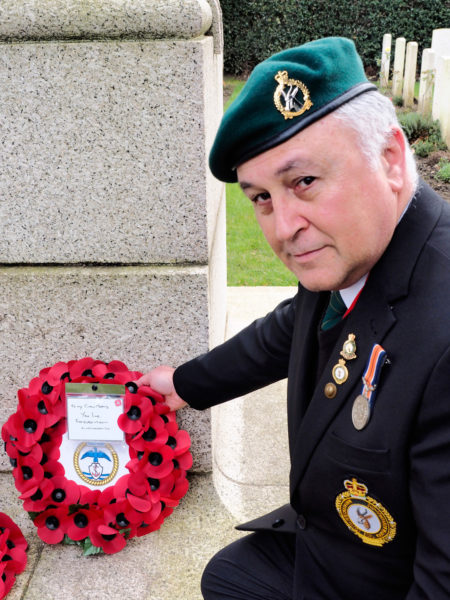 In the mid-1970s, President Kruger played a minor role in the Angolan Civil War as a part of South African operations against the communists. The ship was placed in reserve in 1977, but was recommissioned in 1980. On the morning of 18 February 1982, President Kruger was conducting anti-submarine exercises, when her replenishment oiler, SAS Tafelberg, impacted President Kruger on her port side at 03:55.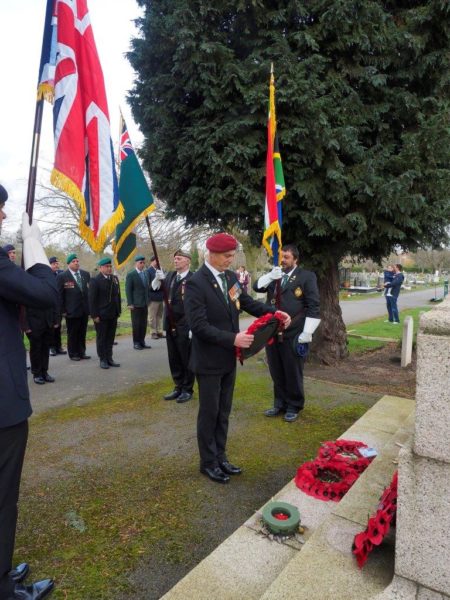 The impact tore a large hole in her side and killed 13 of the 15 men sleeping near the point of collision. The ship took on a large list and the captain ordered "abandon ship" at 04:32. The exercise was immediately terminated and the other ships present began rescue operations. More ships, both military and civilian, began arriving after dawn, as did aircraft from the South African Air Force. A total of 177 crewmen of the 193 aboard were rescued, one of them our Regional Chairman for United Kingdom and Europe, Lgr Cameron Kinnear.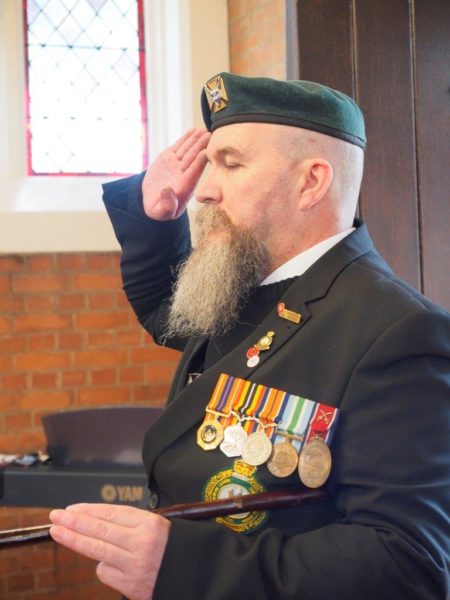 Accordingly, this commemoration is personally very poignant and sobering for many of us.
Following the event, the Royal British Legion in Teddington once again made us most welcome for a traditional braai and social.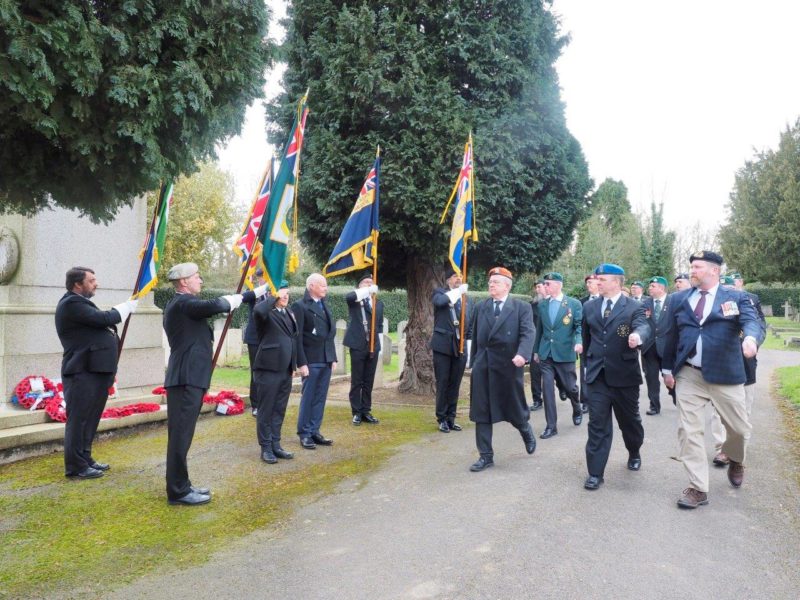 ---
* In Waters Deep
By Eileen Mahoney

In ocean wastes no poppies blow,
No crosses stand in ordered row,
There young hearts sleep… beneath the wave…
The spirited, the good, the brave,
But stars a constant vigil keep,
For them who lie beneath the deep.

'Tis true you cannot kneel in prayer
On certain spot and think. "He's there."
But you can to the ocean go…
See whitecaps marching row on row;
Know one for him will always ride…
In and out… with every tide.

And when your span of life is passed,
He'll meet you at the "Captain's Mast."
And they who mourn on distant shore
For sailors who'll come home no more,
Can dry their tears and pray for these
Who rest beneath the heaving seas…

For stars that shine and winds that blow
And whitecaps marching row on row.
And they can never lonely be
For when they lived… they chose the sea.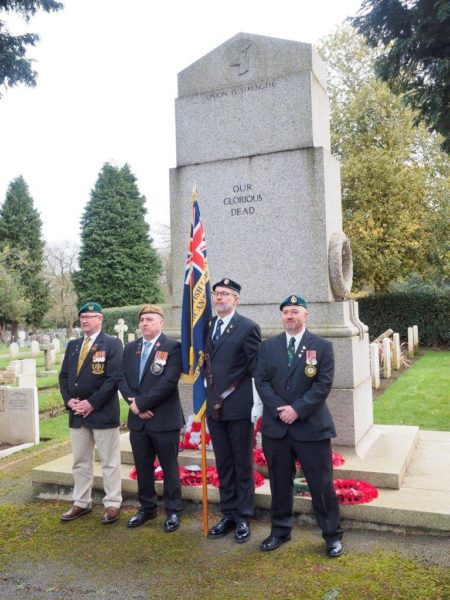 Main text by Lgr Simon McIlwaine
Photography by Lgr Victor Ho