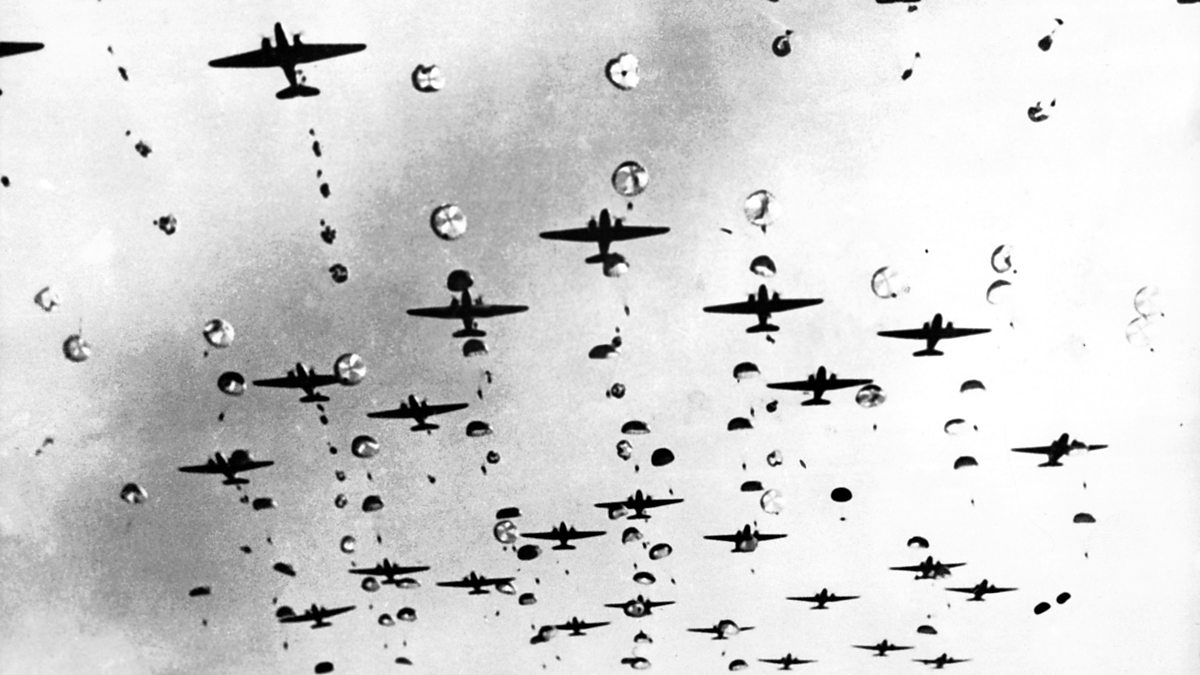 David McCombe, South Africa's first serving Paratrooper
by Col McGill Alexander
Introduction
Captain David McCombe, the first South African serviceman to be trained as a paratrooper, was one of these men and played a crucial role in these efforts. His story is an interesting aside to the history of South Africa's airborne forces, as well as her participation in the Second World War.
David McCombe was the first South African to make a detailed study of the military application of vertical envelopment, and his contribution to airborne operations, and the origins of the airborne concept in South African thinking.  His feasibility studies, the founding and disbandment of the South African Paratroop Company and, finally, McCombe's own participation in the historic Battle of Arnhem.
Captain David McCombe
David McCombe was a Scotsman who came to South Africa in 1936 for the Empire Exhibition. ¹¹ Born in the County of Dumbarton, he was an accountant by profession and, as a widower, he was looking for a new life. He clearly liked South Africa, as he decided to stay on and adopt the country as his own. Working for the Board of Executors Trust, he became an estate agent. When South Africa declared war on Nazi Germany in 1939, McCombe joined the Union Defence Force in a civilian capacity. The following year, on 10 June 1940, he joined the South African Air Force and was commissioned as a 2nd lieutenant in the Radio Signals Company, at the ripe old age of 34, after only one month in uniform.¹²
Having attested in Johannesburg, McCombe initially served with the SAAF Radio Signal Company at the Showgrounds in Pretoria, where he had probably been involved in a civilian capacity prior to this. McCombe was promoted to the temporary rank of lieutenant in January 1941 and the next month was transferred to the SAAF Signal Training School in Tempe, Bloemfontein (the current base of 44 Parachute Brigade). He was not there for long, however, and was then posted to Air Force Station, Kimberley. He was promoted to the acting rank of captain in May 1941 and to temporary captain in October of that year.
McCombe's feasibility studies
On 26 July 1942 McCombe embarked on the SS Stratheard and, on his arrival in Britain, he reported to the High Commissioner at South Africa House in London. During the next six months he undertook an exhaustive study of every known aspect of airborne operations then available in Britain. He gathered masses of documentation, including blueprints for erecting parachute training apparatus, and detailed content of parachute course programmes. All this he forwarded to the Union Defence Force authorities via the office of the High Commissioner. In addition, McCombe qualified as a parachutist at the Royal Air Force's Central Landing Establishment in Ringway, Manchester, becoming the first South African serviceman to have undergone parachute training. He also received training in gliders.
By 15 December 1942, McCombe had produced an incredibly comprehensive 'Report on British Airborne Troops with Special Reference to Training and Equipment of Parachute Troops and Air Landing Troops. It was a monumental study: a fine example of thorough and detailed staff work which had eleven files of documents as appendices. Included were aspects such as organisation, training, equipment, air support, operational exercises and a host of technical data, as well as US training techniques.
Having arrived back in South Africa on 26 January 1943, McCombe took leave to marry Doris Roberts, a South African girl living in Johannesburg.
The Battle of Arnhem
David McCombe had never served in the short-lived Paratroop Company. Nevertheless, he remained in demand as a paratrooper. Whether this was due to his special skill as a radio signals officer, or his unquestionable thoroughness as a staff officer, or simply because he had connections in high places, can only be surmised. According to his widow, he was 'recalled' to Britain because of his specialist knowledge. Whatever the reason, McCombe underwent a medical examination at Mobile Air Force (MAF) Depot on 24 March 1944 and on 4 April he emplaned at Swartkop Air Station: destination – Cairo. He arrived there three days later and on 14 April was seconded to the British Army for duty with Headquarters, Airborne Forces. At the same time, he was transferred from the SAAF to the General Service Corps (Volunteer). He had already signed the General Service Oath nearly a year earlier, on 3 May 1943.
McCombe soon found himself back in England and on 20 April he was granted Paratroop pay of 2/6 per day. No doubt he expected to participate in the D-Day Landings, but that was not to be. By 22 June 1944, with the 6th British Airborne Division having jumped into France ahead of the amphibious landings on 6 June, McCombe had been posted to the 1st British Airborne Division, which had been left behind.
He reported to the Divisional Commander, Maj-Gen Roy Urquhart, to take up his appointment as GS03 (Air) at Divisional Headquarters. There he was involved in the planning of airborne operations. Some, such as Operation COMET, never came off. Early in September 1944, however, the real thing occurred: the hurried planning of Operation MARKET-GARDEN, the ill-fated 'Bridge too far'.
On 17 September, McCombe parachuted with the first wave of the division onto a dropping zone near Arnhem in Holland. He was subsequently involved in some of the heaviest fighting in and around the Divisional Headquarters at the Hartenstein Hotel in Oosterbeek. The division was cut off by the Germans when the British link-up force was unable to break through to them. The Allies' bold plan of laying an 'airborne carpet' of three divisions, two American and one British, across the rivers and canals of Holland to enable an armoured force to roll over into Germany, had been thwarted.
After nine days of almost continuous combat, the division had effectively been annihilated. Only some 2 000 remnants of the 10 000 who had landed succeeded in escaping across the Rhine River to re-join the Allies. McCombe was one of these.  However, he had been injured in the jaw during the fighting, although it did not appear to have been a very serious injury at the time. Four days later, David McCombe was flown back to England where he was immediately hospitalised for treatment of his lacerated chin. His one compensation was the award, on 1 October 1944, of an increment of 2/6 per day on completion of three years in the rank of captain. Six weeks later, he was granted a ration allowance of 2/- per day and a lodging allowance of 3/- per day. This would indicate that he had been discharged from hospital on 18 November and had to find his own billet.
However, on 20 December, he was informed that he had been posted back to the MAF Depot in Voortrekkerhoogte – the SAAF had finally caught up with him. He was unable, in wartime Britain, to arrange a flight home in time for Christmas, but, by New Year's Day, he had managed to get to Egypt and on that day he emplaned at Almaza for the Union. He did this, despite officially still being on sick leave from the British Army.
McCombe arrived back in Pretoria on 3 January 1945 and barely had time to be reunited with his wife before he was admitted to No 133 Military Hospital on 12 January 1945. Thereafter, constantly troubled by his wound, he spent the rest of the year in and out of hospital, fluctuating between admissions, discharges and sick leave.
The war ended and McCombe awaited his turn as the thousands of volunteer soldiers were demobilised. He was eventually released from full-time service at the Johannesburg Demobilisation Depot on 3 May 1946, having served in uniform just a month short of six years.
Epilogue
David McCombe returned to the Board of Executors after the war. Later he and his wife Doris moved to what was then Salisbury, Rhodesia (now Harare, Zimbabwe). He continued to work for the Board of Executors there, while he also did occasional work for Safmarine. He played a significant, though typically low-profile role in Rhodesia, particularly with regard to facilitating contracts with the South African Government.
For the rest of his life, McCombe suffered from blackouts and memory lapses as a result of the head wound he had sustained during the Battle of Arnhem. He died in 1972, at the age of 66. His widow continues to live in Harare, Zimbabwe.
Captain David McCombe was an unknown and unsung pioneer of airborne operations. While few have heard of him, even fewer realise that he made what was probably the most comprehensive study ever undertaken by a South African of a concept that is today the key to rapid deployment of military forces. Not only a theoretician and an outstanding staff officer, McComhe also insisted on a 'hands-on' approach and gained practical experience in what is arguably considered the most famous of all airborne battles.
Sadly, David McCombe's experience and knowledge was never tapped by South Africa when 1 Parachute Battalion was finally established in the sixties, less than twenty years later. Owing to the international isolation of South Africa which was commencing at this time, all the technical data required to set up a parachute training facility was not freely available.
Nevertheless, Commandant Willem Louw and his fourteen fellow paratroopers demonstrated admirable innovation in the design and construction of the necessary apparatus. All this time, however, McCombe's blueprints and voluminous reports lay stacked on shelves, gathering dust, in the Defence Force Archives.
Even though his labours bore no fruit, the debt owed to the memory of David McCombe as a pioneer of paratroops in South Africa cannot be denied.