WHITEHALL, LONDON – Around 40 Legionnaires from around the UK and Europe joined 9,000 veterans and 10,000 civilians at the Cenotaph in London for the Remembrance Parade to mark 100 years since the armistice to end the First World War was signed.
Many who travelled to Waterloo Station used the excellent free Poppy Cab service to reach the muster point at St James's Park. Tickets were distributed and members quickly passed through the busy but efficient Royal British Legion ticket checking process to form-up as part of Column D on Horse Guards Parade.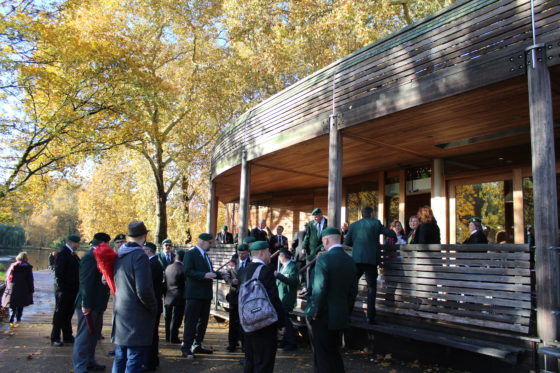 Muster
That this year' s parade was of a different scale in terms of attendance became evident after the column had marched through the arch onto Whitehall. The normal position is almost directly opposite but this year the group was marched almost to Trafalgar Square to accommodate all those attending.
Once everyone was formed up in the road, a bit closer to the memorial, the service began. Large TV screens, showing the service, were provided in the road, as they have been in previous years, but unfortunately the one in front of the Legion column was not working. There was however no mistaking the moment when the two minutes' silence began, as the cannon of the King's Troop, Royal Horse Artillery boomed out from Horse Guards.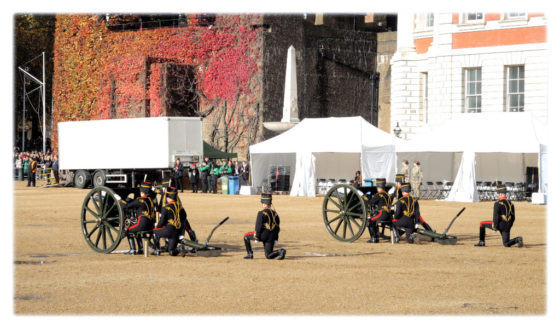 Remembrance
Wreaths were then laid, beginning with Prince Charles on behalf of HM The Queen and followed by military leaders, politicians and High Commissioners of the Commonwealth. Once the formalities were over the mood in the column became more relaxed. Hip flasks where passed around and fellow veterans groups cheered as they began marching off, the Royal Military Police Association party receiving the time-honoured but well-intentioned boos.
The South African Legion party was expertly drilled by Lgr Brian Parry. When the time came for the march-past came, the wreath was laid by Royal British Legion South Africa Branch Chairman Lgr Peter Dickens. After performing the customary eyes left past the Cenotaph, the column wound through the roads back to Horse Guards where Princess Anne, the Princess Royal took the salute.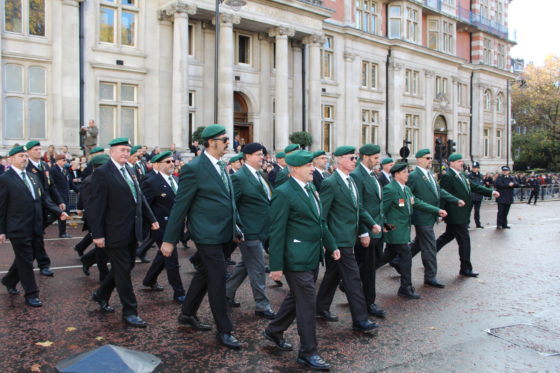 AGM
Back on the parade ground it was time for group photos and jokes with fellow veterans before everyone began making their way to the pub for the RBL SA Branch AGM. To emphasise the size of the Centenary event, the last of the civilian column had yet to set off by the time the veterans had marched through and were leaving the area.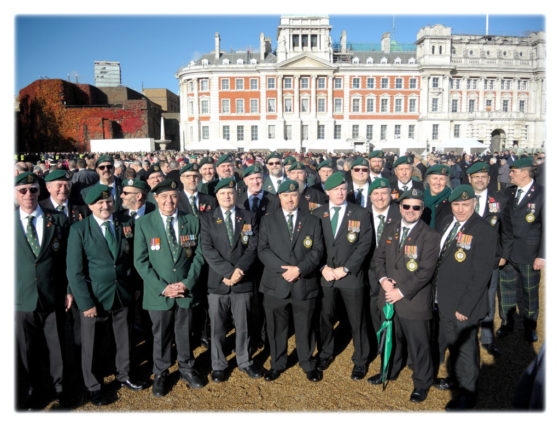 Legionnaires and their families gathered at The Kings Arms in Mayfair for some well-earned refreshment and the AGM. The formal minutes are recorded elsewhere, but in his speech, Lgr Peter Dickens reminded the members that attendance at such special events is largely down to the close relationship forged with the Royal British Legion who run these events in the UK.
Text by Lgr Justin Bosanquet
Photography by Lgr Theo Fernandes and Karen Parry (please scroll down for full picture galleries)
Picture Gallery by Karen Parry:
Picture Gallery by Lgr Theo Fernandes: 
© 2018 SA Legion UK & Europe All Rights Reserved