The Richmond Armistice Day service was held on 10 November at 10:30 at East Sheen Cemetery in London, and was attended by more than 50 people, including the South African Legion (UK & EU Branch), representatives of the MOTH, the Royal British Legion, and South Africa Lodge.
After the entrance of the banners and flags under direction of Ceremonial Officer Lgr Brian Parry, Chaplain Craig Esterhuizen opened the service with a verse from Matthew 5:9 "Blessed are the peacemakers, for they shall be called children of God".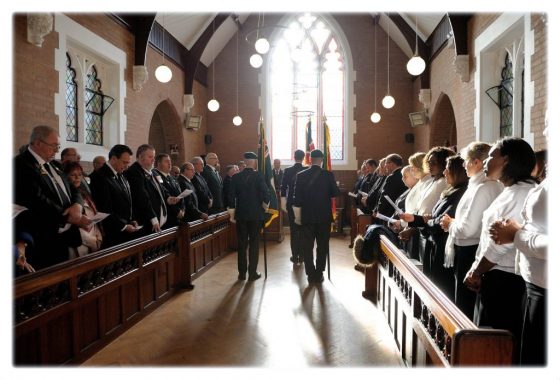 After the hymn Be Still My Soul led by the choir of the New Apostolic Church who added their superb voices to the occasion, the lesson continued and centred around the meaningfulness of Armistice Day, being that it was 100 years ago that the accord was signed; but that peace was still a commodity in short supply in the world. The story of the reconciliation between Esau and Jacob was referred to, and an exhortation that we all fight as hard for peace, as we would for our freedom.
The service was ably supported by the choir who delivered renditions of poignant hymns such as Only Remembered, He in Whose Heart Peace Abideth and The Lord is my Light. Poems were read by Lgr Andrew Bergman, Lgr Russel Mattushek and Lgr Paul Gladwin. At the conclusion, the choir received a standing ovation from the Legionnaires in attendance.
To mark 100 years since the end of WWI, Cameron Kinnear, SA Legion UK & EU Regional Chair then unveiled a SA Legion Shield, for which the custodians of East Sheen Cemetery Chapel kindly gave permission, as well as pride of place at the apex of an arch. Its presence further cements the warm relationship that the SA Legion enjoys with Richmond Cemetery, thanks in a large part to the efforts of Lgr Stuart Robertson.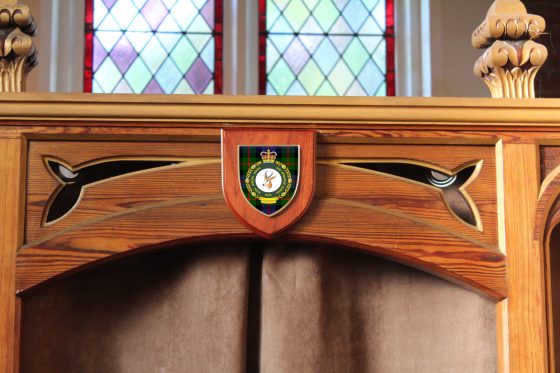 A short tea was enjoyed after the service, complete with home-made muffins provided by Gail Esterhuizen.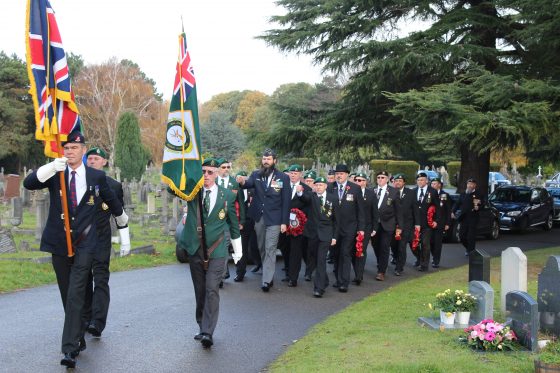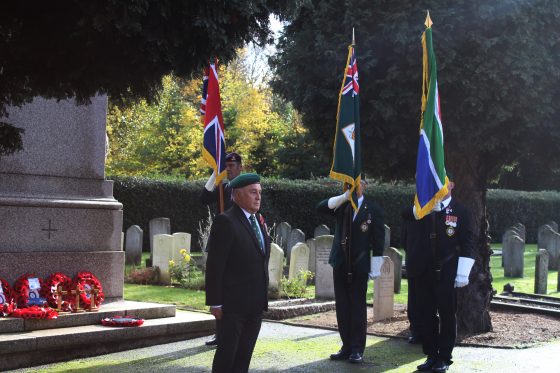 Wreaths were then laid at the cenotaph and a march-past with salute, received by Lgr Cameron Kinnear. A social then continued at the Mitre Pub where a typically carnivorous braai was provided by Du Toit Verster and Johan De Vries.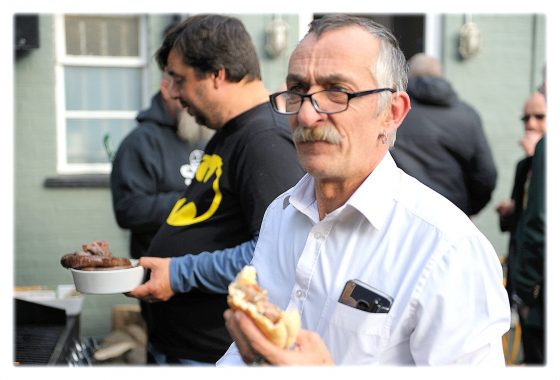 Text by Lgr Craig Esterhuizen and Lgr Andrew Bergman
Photography by Lgr Theo Fernandes and Karen Parry (please scroll down for full picture galleries)

Picture Gallery by Lgr Theo Fernandes:
Picture Gallery by Karen Parry:
© 2018 SA Legion UK & Europe All Rights Reserved