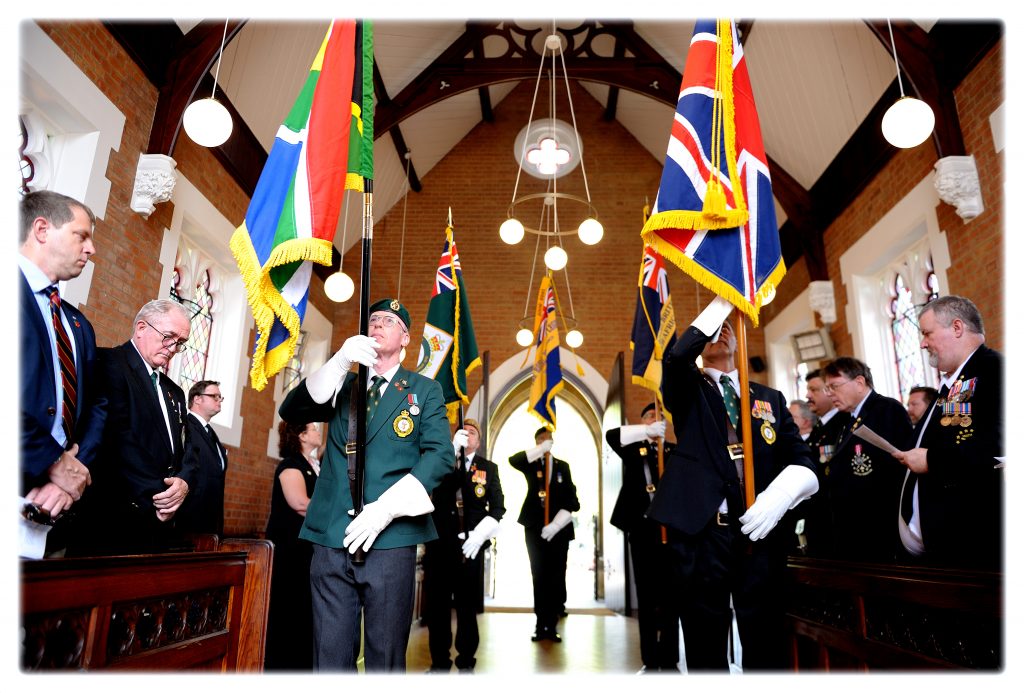 RICHMOND-UPON-THAMES – On the morning of Saturday 14 July 2018, the South African Legion (UK & Europe Branch) in association with MOTH (Gazala Shellhole) hosted the very well-attended Delville Wood Remembrance Parade at East Sheen Cemetery in Richmond, London.
The Legion and MOTH contingents were swelled by members and standard bearers of the Royal British Legion (South Africa Branch and Teddington Branch), MOTH (General Browning Shellhole) as well as the Master and several Freemasons from the London-based South Africa Lodge No. 6742 (UGLE), supported by several family and friends.
We gathered at the cemetery chapel to remember the 229,000 South Africans who volunteered for World War 1, paying tribute to 2,500 who perished in the Battle of Delville Wood (15 July – 3 September 1916), the single biggest South African military loss on the battlefield.
The Standards were paraded into the chapel and Lgr. Craig Esterhuizen led a dignified remembrance service of prayer, reflection, and hymns, with poems and contributions read and recited by representatives of all organisations present.
Video footage of the service by Lgr. Theo Fernandes:
Pictures by Lgr. Theo Fernandes, Karin Parry, and Johanna Bergman:
Parade
Under the expert direction of Ceremonial Officer Lgr. Brian Parry, veterans fell-in behind the gathered Standards and a piper from the London Scottish Regiment (aka the 'Cockney Jocks') and marched in quick time to the nearby South African Cenotaph in the Commonwealth War Graves Commission section of the vast civilian and military cemetery.
Standards were dipped in salute as the bugler sounded Last Post following the Act of Remembrance.
As the piper sounded a poignant lament, wreaths were laid by the SA Legion England, Scotland, and Europe Branches, MOTH Gazala Shellhole, and South Africa Lodge.
SA Legion Scotland Branch Chair Lgr. Cary Hendricks, resplendent in full Murray of Atholl Highland kit then took the salute on behalf of the Regional Exco.
Pictures by Lgr. Theo Fernandes, Karin Parry, and Johanna Bergman:
Social
We then proceeded to the The Mitre in Richmond for several cold pints, and super braai in the beer garden catered by Lgr. Theo Fernandes, Lgr. Dutoit Verster, and Lgr. Johan de Vries. Legionnaires, MOTHs, and Masons mingled and seemed to have imported South African summer weather to Richmond.
Pictures by Lgr. Theo Fernandes and Karin Parry
Bravo Zulu to all involved (far too numerous to name).
© South African Legion (UK & Europe Branch) 2018
Text: Lgr. Andrew Bergman
Video: Lgr. Theo Fernandes
Photography: Lgr. Theo Fernandes, Karen Parry, Johanna Bergman