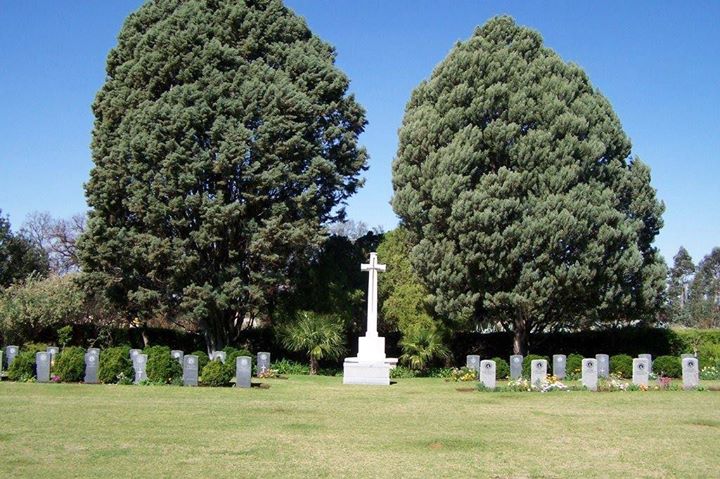 BLOEMFONTEIN (HAMILTON) WAR CEMETERY
The Hamilton War Cemetery in Bloemfontein with its 74 Commonwealth graves is one of the 602 burial sites in which 8 440 casualties are commemorated for which the South African Agency of the Commonwealth War Graves Commission is responsible in South Africa. Both the number of burial sites and graves are increasing as Commonwealth casualties previously not included in the Commonwealth War Graves Commission's casualty database are added. The cemetery is located close to the War Museum of the Boer Republics and opposite the In Memoriam Municipal Cemetery.
The cemetery features an attractive entrance which was erected in 1982. The entrance gives access to an open grass area with a Cross of Sacrifice directly opposite the entrance. Provided that a train does not rumble pass, the cemetery is one of tranquility, peace and quiet. During 2013 the Mangaung/ Bloemfontein Municipality erected a new historical cemetery name board at the entrance.
To the right on the open grass area are 9 Border War graves as well as a memorial to the Imperial Light Horse Regiment and Kimberley Regiment commemorating the Battles of El Alamein and Monte Salvaro. On the left are the graves of 3 of the 13 members of the South African National Defence Force who were killed in the clashes in the Central African Republic in 2013. As these graves are within the boundary of the cemetery it will be maintained along with the Commonwealth graves.
During the Second World War a Military Hospital was established in the Tempe Military Camp which also housed the Headquarters of the then Orange Free State Command. Flying training was carried out by 27 and 62 Air Schools at Bloemspruit Airfield outside Bloemfontein.
Of the 74 Commonwealth graves in the cemetery 12 are from the First World War and 62 are from the Second World War. 29 of the burials are South African Army personnel who were originally buried in the non-European cemetery which became unmaintainable and the remains were re-interred here in the early 1970's.
The First World War graves are 11 members of the South African Native Labour Corps and 1 member of the West African Fighting Force (WAFF), Gold Coast Regiment.
Graves from the Second World War includes 18 graves from members of the South African Native Labour Corps, 11 members of the Royal Air Force Volunteer Reserves, 9 members of the South African Air Force, 8 members of the Cape Corps, 3 members of the 1st South African Reserve Brigade, 2 members each of the General Service Corps, Indian and Malay Corps and South African Engineer Corps. In addition there are 1 grave of each of the following Essential Service Corps, Q Service Corps, South African Artillery, South African Instructional Corps, South African Interment Corps, South African Pay Corps and the South African Corps of Military Police.
Story by Charles Ross for the South African Legion of Military Veterans.