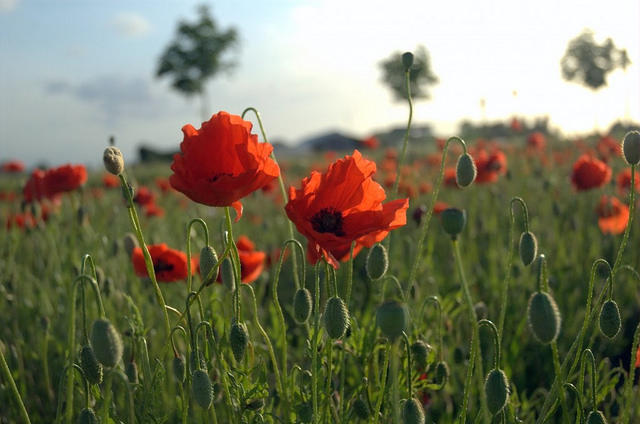 by Lt Col McCrae, MD:
In Flanders fields the poppies blow
Between the crosses, row on row,
That mark our place; and in the sky
The larks, still bravely singing, fly
Scarce heard amid the guns below.
We are the Dead. Short days ago
We lived, felt dawn, saw sunset glow,
Loved and were loved, and now we lie
In Flanders fields.
Take up our quarrel with the foe:
To you from failing hands we throw
The torch; be yours to hold it high.
If ye break faith with us who die
We shall not sleep, though poppies grow
In Flanders fields.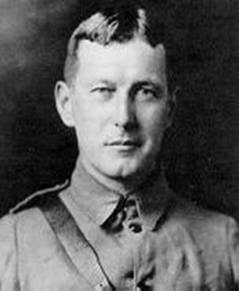 "In Flanders Fields" is a war poem in the form of a rondeau, written during the First World War by Canadian physician and Lieutenant Colonel John McCrae. He was inspired to write it on May 3, 1915, after presiding over the funeral of friend and fellow soldier Alexis Helmer, who died in the Second Battle of Ypres."
In Flanders Fields" was first published on December 8 of that year in the London-based magazine Punch.
It is one of the most popular and most quoted poems from the war. As a result of its immediate popularity, parts of the poem were used in propaganda efforts and appeals to recruit soldiers and raise money selling war bonds.
Its references to the red poppies that grew over the graves of fallen soldiers resulted in the remembrance poppy becoming one of the world's most recognized memorial symbols for soldiers who have died in conflict.
The poem and poppy are prominent Remembrance Day symbols throughout the Commonwealth of Nations.
McCrae was moved to the medical corps and stationed in Boulogne, France, in June 1915 where he was named lieutenant-colonel in charge of medicine at the Number 3 Canadian General Hospital.
He was promoted to the acting rank of Colonel on January 13, 1918, and named Consulting Physician to the British Armies in France.
The years of war had worn McCrae down, however. He contracted pneumonia that same day, and later came down with cerebral meningitis.
On January 28, he died at the military hospital in Wimereux and was buried there with full military honours.
An Afrikaans translation:
In Vlaandere se Velde
In Vlaand're wieg papawers sag
Tussen kruise, grag op grag,
As bakens; en deur dit alles deur
Die lewerikke tjilpend in dapper vlug,
Skaars hoorbaar bo die grofgeskut van bomme.Ons is die Dooies.
Dae gelede het ons geleef
die dagbreek en sonsondergloed beleef. Was bemind en was verlief,
nou lê ons in Vlaandere se velde.Veg voort my Kind met alle mag;
neem uit my hand die lig,
met krag moet jul die fakkel dra, met eer. Wie durf Ons dood verloën, onteer –
ons sal steeds dwaal, ons sal nie slaap, solank papawers groei in Vlaandere se velde.
Translated into Afrikaans by Hendrik Neethling and Walter E. Vice as a collaboration on behalf of the Legion, as arranged and ready by Karen Dickens at the Centenary Service of the South Africans at the Somme and the Battle of Delville Wood, held at Thiepval Memorial in France on 10th July 2016