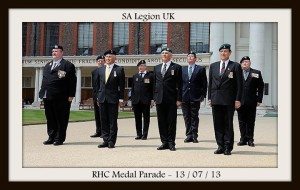 For images of some of these parades, use the pull down Even Gallery menu above and browse through the options.
If you are a member of the SA Legion UK we can assist you in researching your medal awards.
Contact us for further information:
Note: The processing time is dependent on the SANDF Medals and Awards Section, and every claim is verified for legitimacy, so kindly give us time to process your request.
Instructions
1. For all applicants please fill in Section 1.

2. If you have done service in Mozambique (including Comores), South West Africa (Walvis Bay not included) Botswana, lesotho and Swaziland then complete Section 1 and Section 2.

3. If you have participated in cross border operations into Angola/Lesotho or outside the borders of South Africa, and South West Africa (Walvis Bay not included), complete Section 1, Section 2 and Section 3.

4. If you have participated in very specified or specialised operations please add details and complete Section 1, Section 2 and Section 3.

5. If you believe that you there may be other medals (Longs Service Medals, Meritorious Service, etc.) outstanding or due, please include details, and complete Section 1, Section 2 and Section 3.

6. If you are enquiring about lost certificates or stolen/lost medals, please fill in Section 1, but in the 'Any other relevant information' please list all the medals and their numbers you have in your possession and put an X in the Issue of Certificates box or Re-issue of lost/stolen medals.

7. Please include as much information you can or that you remember about your service in the additional information boxes. The more detailed information the better.

8. If possible, attach copies of pay-books, passbooks, service records, signals, official letters, photographs, operation names, dates, commanding officers, platoon commanders etc. where possible.

9. Ensure that your up to date postal address is included.

10. Submit the form, noting the Declaration

PLEASE NOTE THE SA LEGION DOES NOT LEVY A CHARGE FOR THIS SERVICE
NOT FOR OURSELVES BUT FOR OTHERS