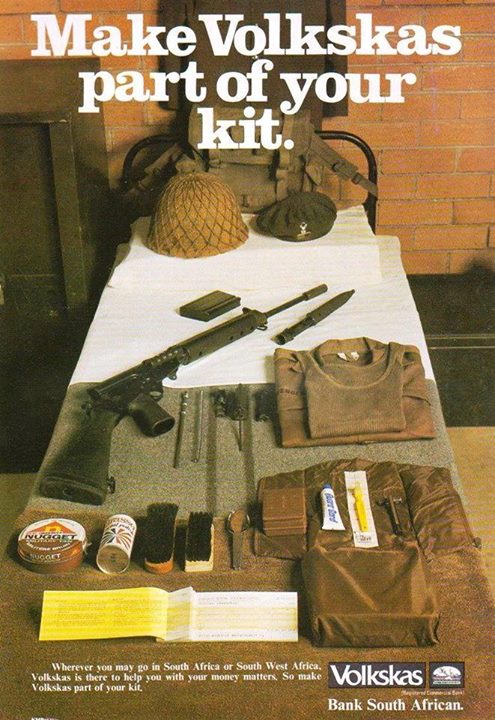 Remembering the days during South African National Service " inklaar ", when if you arrived without having a bank account for your princely SADF pay, moenie worry nie….these good bankers from "Volkskas" (amalgamated with ABSA now) were right on hand to help you, with table and tannies (aunties) to sign you right on … and there's more:-
At the same time you were also sold life insurance policies and asked to write a last will and testament. Can you imagine that in today's youth – 18 or 19 years old and you operated a current account, had life insurance and a current will.
It also says a lot for the veterans today, whether they wanted to or not (National service was not voluntary), they signed their lives away to serve their country for the princely sum of R0.00 (zero), that's quite a concept for someone whose never served to get their heads around today.
Other banks, insurance companies and building societies – like Sanlam and Allied Building Society (now also part of ABSA) also assisted with National Service banking and insurance requirements, this was a very different time when National Service was part of the social and cultural fabric for white South Africans.
You can argue that banks like Volkskas Bank operated a "cradle to grave" marketing philosophy and this was a "get them in when they are young" and keep them to retirement (selling appropriate banking along he way throughout ones life) ploy – a common marketing tactic for financial institutions world over.
However they did perform a vital service – as pay had to be paid in somewhere – meagre as it was. Pay by way of incentive was also increased when servicing on the Border as "danger pay," as well as "short service" options for National Servicemen to stay on a little longer at the end of their two years national service – and many a returning serviceman where able to use the savings to buy their first cars or motorbikes.
Story for the South African Legion by Peter Dickens