In the North Italian village of Carpane on 27 September 1944 the Germans executed 16 Allied soldiers captured fighting with Italian partisans in that area.
Among them were Private W.J. Kinnear (Transvaal Scottish) and Gunner R. S. Kinnear (South African Artillery) who escaped with other South Africans from a nearby POW camp and joined up with local partisans to carry on fighting the Germans.
They became such a thorn in the flesh of the Germans that a special operation was mounted in the Monte Grappa region to capture them.
They were eventually captured and murdered by the Germans.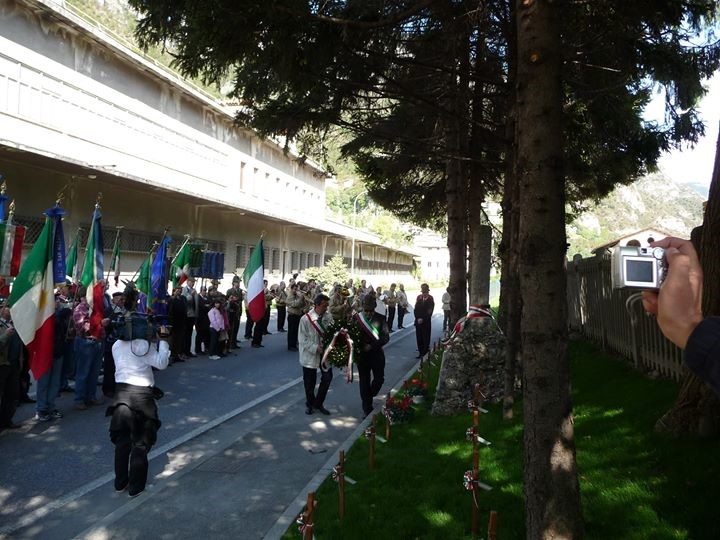 Every year on this day since the end of the war the villagers of Carpane have held a memorial service at this spot by the side of the road where they were killed.
It is very moving that these Italian villagers have been so faithful for so long in keeping alive the memory of these who were really strangers in their midst. For many years the identity of the 16 was not known and the monument was simply inscribed to "16 unknown".
It was only about 4 or 5 years ago that their identity was uncovered by Sonia Residori, an Italian academic researcher.
BOTES, A

Rank: Private
Service No:28077
Date of Death:27/09/1944
Regiment/Service: Rand Light Infantry, S.A.
Grave Reference I. B. 1.
Cemetery PADUA WAR CEMETERY

BUYS, S

Rank:Signaller
Service No:117010
Date of Death:Between 26/09/1944 and 27/09/1944
Regiment/Service:South African Corps of Signals
Grave Reference I. B. 2.
Cemetery PADUA WAR CEMETERY

CHAMBERS, F E

Rank:Private
Service No:93978
Date of Death:27/09/1944
Age:24
Regiment/Service:Natal Mounted Rifles, S.A. Forces
Grave Reference Coll. grave I. B. 3-8.
Cemetery PADUA WAR CEMETERY
Additional Information: Son of Arthur W. and Cornelia M. Chambers, of Durban, Natal, South Africa.

KINNEAR, W J  http://www.southafricawargraves.org/search/details.php?id=12292

Rank: Private
Service No:27529
Date of Death:27/09/1944
Age:29
Regiment/Service:Transvaal Scottish, S.A. Forces 2nd Bn.
Grave Reference I. A. 10.
Cemetery PADUA WAR CEMETERY
Additional Information: Son of William J. and Francina S. Kinnear; husband of Maria E. Kinnear, of Johannesburg, Transvaal, South Africa.

KINNEAR, R S

Rank:Gunner
Service No:53513
Date of Death:27/09/1944
Age:27
Regiment/Service:South African Artillery
Grave Reference I. A. 8.
Cemetery PADUA WAR CEMETERY
Additional Information: Son of William J. and Susan Kinnear; husband of Adelaide R. H. Kinnear, of Durban, Natal, South Africa.

CRONJE, L N

Rank:Lance Bombardier
Service No:105306
Date of Death:27/09/1944
Age:21
Regiment/Service:South African Artillery
Grave Reference Coll. grave I. B. 3-8.
Cemetery PADUA WAR CEMETERY
Additional Information: Son of Mr. and Mrs. C. A. Cronje, of Ficksburg, Orange Free State. South Africa.

FLACK, B R

Rank:Gunner
Service No:144020V
Date of Death:27/09/1944
Age:32
Regiment/Service:South African Artillery 2 Field Regt.
Grave Reference Coll. grave I. B. 3-8.
Cemetery PADUA WAR CEMETERY
Additional Information: Son of Brian V. H. and Maude E. Flack, of Pietermaritzburg, Natal, South Africa.

WHEELWRIGHT, D D

Rank: Corporal
Service No:11607
Date of Death:27/09/1944
Age:41
Regiment/Service:Kaffrarian Rifles, S.A. Forces
Grave Reference I. A. 9.
Cemetery PADUA WAR CEMETERY
Additional Information: Son of Guy and Lilian Wheelwright; husband of Viola Wheelwright, of Lusikisiki, Cape Province, South Africa.

KING, C N

Rank:Lance Corporal
Service No:12225
Date of Death:27/09/1944
Regiment/Service:Die Middelandse Regiment, S.A. Forces
Grave Reference I. A. 14.
Cemetery PADUA WAR CEMETERY