SA Legion Medal Parade follows RHC Carabiniers Memorial
A small group of Legionnaires and Moths attended the Observance at the Carabiniers Memorial, Chelsea, on the first Sunday in December, hosted by the Royal Scots Dragoon Guards Association (RSDGA).
The day continued with a service in the prestigious chapel at the nearby Royal Hospital, Chelsea, home of the Chelsea Pensioners, followed by an excellent curry lunch.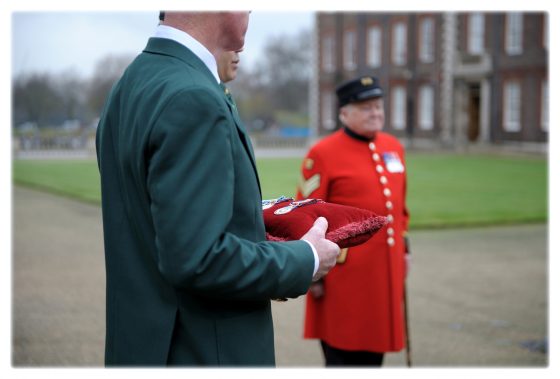 A highlight following the service, was a medal parade held in Statue Court within the hallowed precincts of the Royal Hospital, where SA Legion England branch Chair, Lgr Claudio Chistè, presented long overdue medals to two recipients.
Moth Jessie Bostock received his General Service Medal and Legionnaire Barrie Gooden received his General Service Medal and Unitas Medal.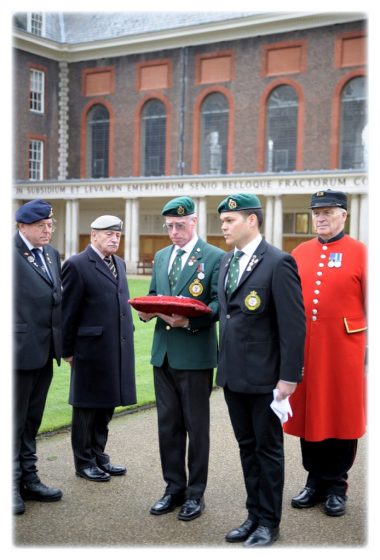 In addition to Claudio and the recipients, SA Legion England branch Vice-Chair, Russel Mattuschek, Legionnaires Tony Povey, Dave Wiseman and Theo Fernandez, Moth Mark Samson, Old Bill General Browning shellhole, Tony Grey, RSDGA and two Chelsea pensioners, Sergeant Fred Bolwell, ex-Coldstream Guards and Corporal Tony Hunter, ex-Royal Tank Regiment also attended the parade.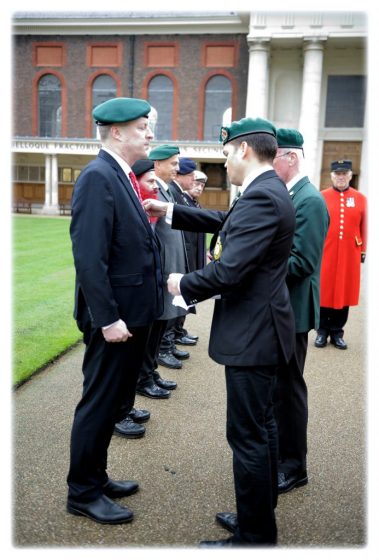 It was an honour to hold the parade on such august ground which was sure to make the occasion all the more memorable for medal recipients and attendees alike.
The day ended with an opportunity to meet members of the RSDGA, Chelsea pensioners, and some Pearly Kings and Queens in the bar over a beer or two.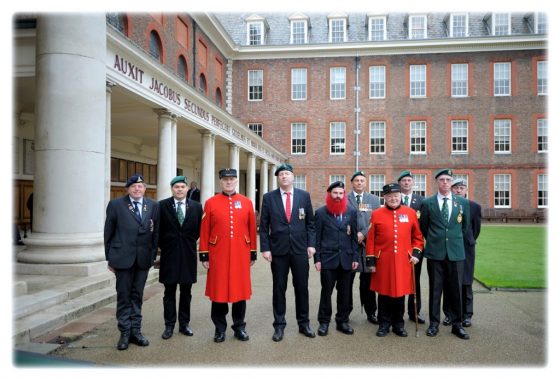 Attendance at the Observance is a privilege afforded to the SA Legion because of their South African connection. The Royal Scots Dragoon Guards (Carabiniers and Greys) (Scots DG) amalgamated with the 6th Regiment of Dragoon Guards (Carabiniers), who from 1899 – 1902 fought in the Second Boer War and were present at the relief of Kimberley. The RSDG are affiliated to the Natal Carbineers and through this look forward to 'Saffa' participation in their annual event.'
Text: Lgr. Tony Povey
Pictures: Lgr. Theo Fernandes