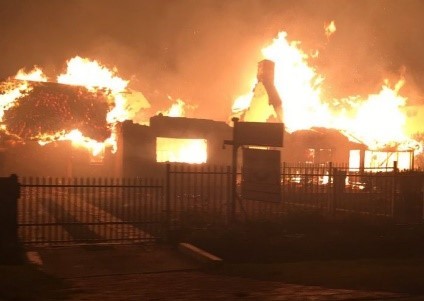 Following successful completion of the 200km fundraising challenge by the South African Legion, two worthy causes benefited from this endeavour. The challenge is the largest multi-day marching event in the world. Held annually in the Netherlands, it is renowned for forcing individuals to pit willpower and commitment against heat, pain, and exhaustion.
Two charitable causes benefited from this fundraiser, with £1,917 to be split between the South African Legion and the recent Knysna fire relief effort.England Chairman Lgr Claudio Chistè marched ±11.5 hours a day over four days (July 18-21), over various routes surrounding the city of Nijmegen near the German border, starting at 04:00 each morning. To further challenge endurance, this was conducted in marines-style military marching kit with appropriate weight throughout the event.
A short ceremony was held was held on August 28 to entrust the Mayor of Knysna, Eleanore Bouws-Spies, with £963.50 for the relief effort following the devastating fires by England President of the SA Legion, Lgr Peter Dickens – who was also officiating on behalf of the SA Legion in South Africa (the local branch is in George).
The Mayor expressed deep gratitude, commending the SA Legion and felt that this was a stand-out in terms of an individual contribution, conveying a sense of awe of the physical and endurance limits set for the 'Marching for Others' challenge which was undertaken. The SA Legion was commended on the effective media and marketing efforts used to extend contributions to the victim's fund and grateful for the awareness of the Knysna fires, which had been used on international media and marketing forums. This resulted in international contributions finding their way to Knysna using crowdfunding. It was felt appropriate that the Mayor's office would look at the list of fire victims and evaluate whether any were military veterans, earmarking these funds accordingly.
The Mayor and her team were interested to hear of the history of SA Legion, and were especially interested in activities being undertaken, ranging from parades to selfless activities such as these.
NOT FOR OURSELVES, BUT FOR OTHERS
Image Credits: Twitter/Snazo Gulwa