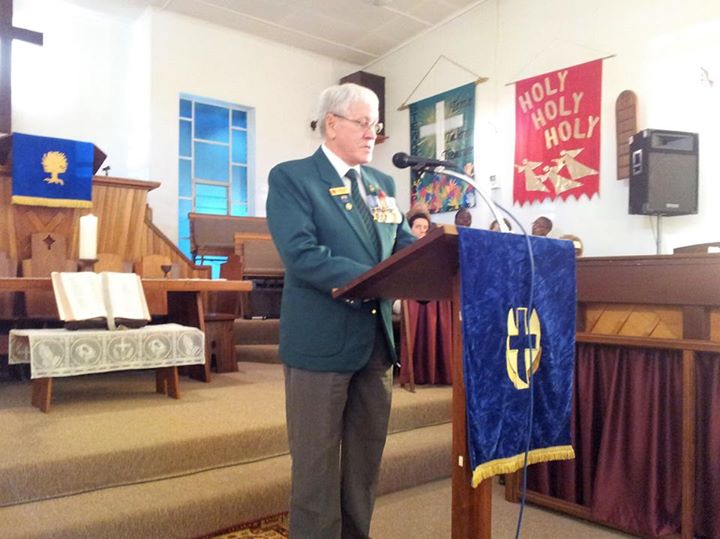 REMEMBRANCE SERVICE AT SAINTS PRESBYTERIAN CHURCH, LYTTELTON
During October 2015 the Saints Presbyterian Church approached the National Headquarters of the South African Legion of Military Veterans for assistance in planning their 2015 Remembrance Day Service. It was referred to the Public Relations portfolio and I contacted the church and got involved. One of the request was the provision of 200 Poppies, which the Pretoria branch obliged. Saints Presbyterian Church made a donation to the Legion.
Today, Sunday 08 November, Lgr Charles Ross and his wife Rina attended the Remembrance Day Service in the Saints Presbyterian Church in Lyttelton. Every member of the congregation attending the moving service conducted by Reverend Zolani Makalima received a Poppy on arrival.
Following the normal service the Remembrance Day part of the service commenced with the background to Remembrance Day. During this mentioned was made of the South African Legion of Military Veterans, who provided the Poppies, and the very important work currently being done by the Legion. This was followed with the reading of the poem "In Flanders Fields" and a address by Lgr Charles Ross on the importance of Remembrance Day post the Second World War.
The congregation was then called to Remembrance followed by the sounding (playing) of the Last Post on an electric guitar (this was a first for me, and obviously for many of the congregation), 2 minutes silence and the Reveille (a recording). The congregation was called upon to place flowers on a rugged cross covered with mesh wire, symbolizing the barbed wire of the First World War. This was a very interesting way of remembrance. Lgr Ross placed a flower on behalf of the South African Legion of Military Veterans.
The service concluded with the church choir singing the hymn "Plea for Africa".
Story for the South African Legion of Military Veterans by Lgr Charles Ross with photos by Rina Ross.