Rare image of a wounded South African during World War 1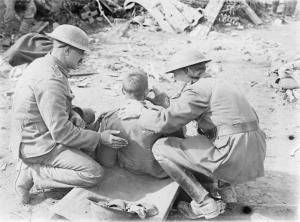 Rare photo of South Africans in action during World War 1. Battle of the Menin Road Ridge; part of the Ypres initiatives. Here a wounded South African is being given a hot drink by a Padre and consoled by a fellow South African brother in arms, after the attack on Potsdam (a German stronghold near Zonnebeke). Near Potijze, 20 September 1917. 
Copyright Imperial War Museum Collection.