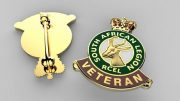 Veterans Badge exclusive to members of the South African Legion who have served in security forces of the Republic or Union of South Africa.  An immaculate item crafted by Toye Kenning and Spencer.
The South African Legion Veteran Badge comes individually numbered in a special jewellery case and accompanied by a certificate.
To purchase this badge you need to be a member of the SA Legion.
Updating...