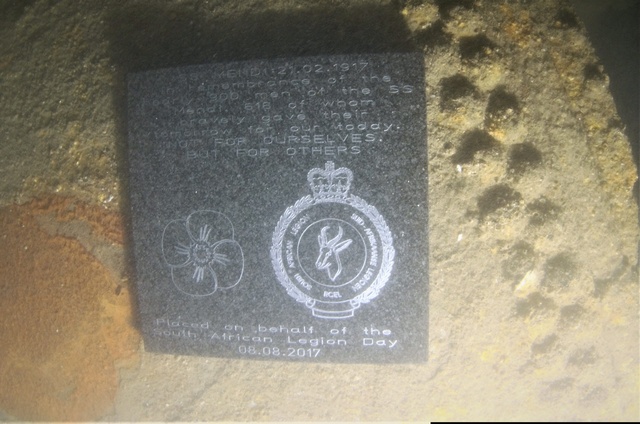 Amidst the South African Nation celebrating the success of Wayde van Niekerk's gold in the 400m 2017 athletics World Championship in London, another milestone slipped by almost unnoticed – the laying of the commemoration plaque on the wreck of the ship which has captured the national spirit.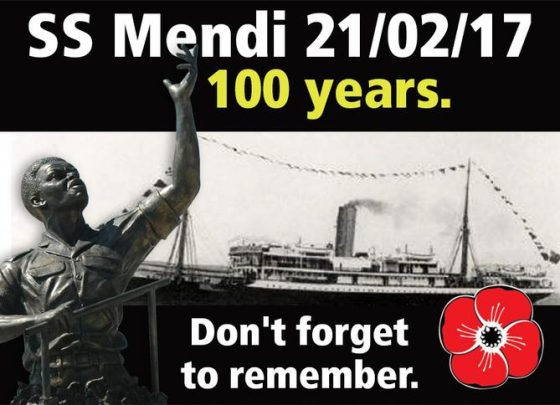 On February 21st 1917, a cold foggy morning at around 05:00 in the English Channel in freezing weather conditions, there loomed a recipe for a shipping disaster which was to cause barely a blip amid the chaos and carnage of World War I. However no one could anticipate the consequential impact down the years in South Africa; a moment that would embody the national spirit.
Crossing the English Channel, having sailed from South Africa to provide support for the Battle of the Somme, the troopship SS Mendi was accidentally rammed by an allied ship, Darro, causing her to sink near Southampton. To commemorate the 100th anniversary of her sinking, the South African Legion represented by the England Branch Chairman, Lgr Claudio Chiste, arranged a plaque to be placed on the wreck in memory of the 616 Southern Africans and 30 crew members who lost their lives. Claudio Chiste told the South African Legion Public Relations Officer: "
"Credit to the skipper Dave Wendes for his hospitality and for getting us there smoothly in the choppy conditions of the day, as well as to all the fellow divers who all enthusiastically contributed to the success of this initiative".
While many in South Africa may still view the two world wars as "white man's wars", nothing can be further from the truth. Of all South Africans involved in World War I, almost 85,000 were of colour (almost 40%). A similar ratio stands for WWII. The contribution from SA of all races towards the world war efforts on a global stage is undeniable.
Some may view these as pressed men, forced in to the war effort; some may view them as servicemen who volunteered, but one thing is certain is that they were men. They left us with their boots on, singing the death dance, unified in their peril. The sea does not discriminate.
This South African Legion initiative to honour these men with the laying of this plaque concludes the final centenary memorial service. The South African Legion played a critical role in the build-up to the centenary having initiated memorial services at Hollybrook five years ago.
The plaque was not bolted onto the wreck, but placed there gently and will not interfere with the vessel in any way. It was placed in an appropriate position on the wreck, where it will stay and act as a lasting memorial, some 40m under water.
May their souls rest in peace.
FACTFILE
Getting there
To visit the wreck site, contact Dave Wendes, who runs boat trips with his boat Wight Spirit.

To get to the launch boat in Lymington: Lymington is situated on the south coast with Southampton to the east and Bournemouth to the west.

From Royal Lymington Yacht Club follow the signposts to the seawater baths. Along the way you should see the slipway and the pontoons, which is where the boat pickup point is.

SatNav Postcode: SO41 3SE

(Royal Lymington Yacht Club, which is adjacent the pontoon)

Health
Nearest re-compression chamber is Poole, Dorset
Wreck point
About 10 miles south St Catherine's Point, English Channel
Visitor information
http://wightspirit.co.uk