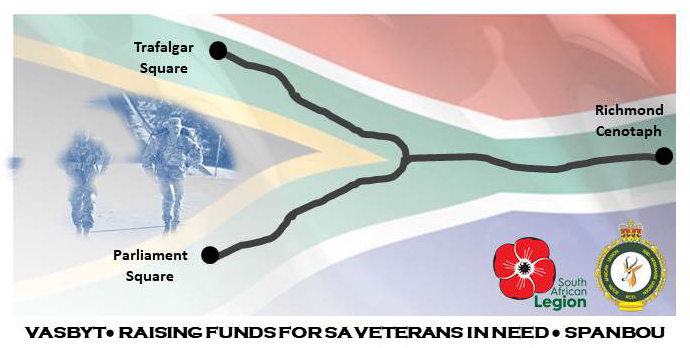 LONDON – Members of the SA Legion UK & Europe successfully completed a Three-Point Challenge march through the streets of London on November 25 in support of the SA Legion veterans who were victims of the recent storm and floods that hit Durban on October 10. Particularly hard hit were the SA Legion flats at BESL Court in Umbilo, which lost its roof and suffered water damage to the flats and contents below.
This Marching for Others team effort, organised by SA Legion England Chair Lgr. Claudio Chiste, Lgr. Craig Esterhuizen, and Lgr. Tony Povey, builds on a successful individual effort. This 'vasbyt' has raised £1,000 funds for fellow veterans in need, and there is still time if you wish to make a further donation here:

South African military veterans started the Three-Point Challenge by mustering at South Africa House on Trafalgar Square. They then moved on to the second point at Parliament Square, then to the third and final point at the SA Cenotaph at Richmond cemetery.
The distance covered was 19.3km and the target was to achieve this in less than three hours, excluding a few refreshment stops along the way.
In addition to military marching kit, there was also a weighted kettlebell passed around to promote teamwork and the GV feeling.
SA Legion UK & Europe Regional Chair, Lgr Cameron Kirk Kinnear: "The motto 'Not for Ourselves but for Others' has a deep resonance for veterans who offered themselves as trained and motivated servicemen and women. Members of the SA Legion, UK & Europe have once again shown that they pay homage to that motto by embarking on another Marching for Others event to raise awareness and much needed funds for veterans in need.
"The team embarked on a 19.3km march to raise £1,000 for much needed repairs to BESL Court, in Durban. At the successful conclusion of the march, Richmond Councillor Margaret Buter presented the team with certificates and badges for successfully completing the challenge.
"An example once again for other veterans. Next year will see the SA Legion UK & Europe embark on more events to raise awareness and funds for fellow veterans."
SA Legion Durban Chair, Lgr Rick Andries said the venture is "an excellent idea, and a wonderful experience for those who took part, to raise funds… and for us (well you know what I mean). Wow, £1,000, that translates into about R18,000… Truly amazing! It will be put to very good use. On behalf of the residents of BESL Court I thank you so very much, those affected by the recent storm will be truly grateful."
Text: Lgr. Tony Povey for SA Legion England Branch