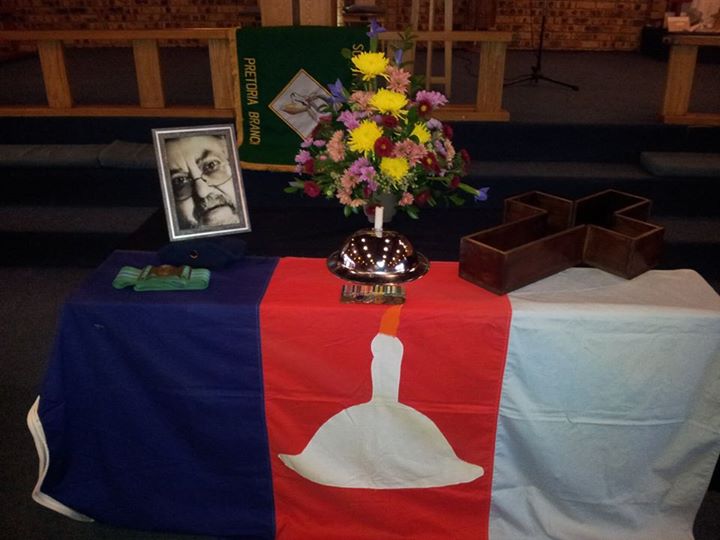 Friday 24 July 2015 Charles Ross attended the Memorial Service for Legionnaire/MOTH/Signalman Malcolm Dirk Kriel in the Westview Methodist Church in Wierda Park. The service was attended by many Military Veterans from various Veteran Organisations. Following a moving service by Pastor Wendy Walker the Legion and MOTH funeral rituals performed by Lgr Bazil Kriel and MOTH's Dave Berry and Thinus Prinsloo. During the MOTH ritual the Last Post and Reveille was sounded while the Lament was played the Last Post and Reveille.
Malcolm was born in Bloemfontein and spent his youth at Tempe Military Base, Voortrekkerhoogte and the TEK camp in Snake Valley. Malcolm attended the Pretoria Technical College and loved building electronic gadgets, especially crystal sets.
After school Malcolm joined the South African Army Corps of Signals in 1962 where he qualified as a Radio Technician and spent brief periods in Bloemfontein and Port Elizabeth Signals Units before returning to Voortrekkerhoogte to serve both the School of Signals and 1 Signal Regiment. He was transferred to Cape Town as Warrant Officer at the Air Defence School Technical Workshop and later became the Regimental Sergeant Major of the Western Province Signals Unit. After this stint Malcolm was transferred to School of Signals in Heidelberg.
In the early 1980's Malcolm was transferred to the South African Army Headquarters, Director Signals where he was selected as the Warrant Officer of the new night vision project. He served at Director Projects and was considered the night vision expert in the South African Army until retirement in 1992.
After retirement Malcolm worked for ELOPTRO, the Denel subsidiary of nigh vision equipment and final for Mechem until 2004.
Malcolm became a MOTH in the late 1970's and served as Old Bill of Aerial Shellhole in the 1980's. He became Chairman if the Pretoria Branch of the South African Legion of Military Veterans in 1989 and Provincial Chairman of the Transvaal Region in 1994. During the 1990's he was instrumental in arranging the annual SS Mendi Memorial Services at the SS Mendi Memorial in Atteridgeville. Malcolm also served as Chairman of the Pretoria Ex-Serviceman's Council. Malcolm was also a member of the Signals Association and was a very active radio amateur with call sign ZS-MDK. This call sign is now silent.
In 2004 Malcolm moved to Sasolburg where he served as a MOTH and the Sandy Shellhole, an active radio amateur and as Liaison Officer of the Free State Provincial Committee of the South African Legion of Military Veterans.
In 2010 he moved to Bloemfontein where resided at the South African Legion of Military Veterans village, Springbok Park. He joined the MOTH George Coombs Shellhole, Bloemfontein Branch of the South African Legion of Military Veterans and the Bloemfontein Combined Ex-Serviceman's Organisation.
In January 2015 Malcolm was admitted to 3 Military Hospital with Dementia and Uniary Tract infection. During March 2015 Malcolm and his wife Sheila were moved to the MOTHWA Haven Frail Care Centre in Eloffsdal, Pretoria. Malcolm's condition deteriorated and was Called to Higher Service in the early hours of the morning of 15 July 2015.
Malcolm was a well-respected Soldier, Mentor, Veteran and Radio Amateur. He was a person who had a passion for electronics and he always wanted to pass on his expertise to others, which included his juniors in the military, his apprentices and to the sons of his brother, Bazil. The latter being guided by Malcolm's knowledge and enthusiasm as they spent many a June/July high school holiday with Malcolm where he taught them everything about radio and electronics.
He was known to fight for his apprentices and junior and did not hesitate to express his feelings to seniors if he believed that he was right. This earned him the nickname "Wooden Spoon" from his subordinates because he could stir.
In all the organisations that Malcolm served he always became involved and made things happen, he made a difference.
Malcolm will be sorely missed by his family, the South African Legion of Military Veterans, MOTH Order, Signallers and friends.
"WE WILL REMEMBER HIM"
Story for the South African Legion of Military Veterans by Charles Ross based on the Eulogy by Lgr Bazil Kriel. Photos by Charles Ross