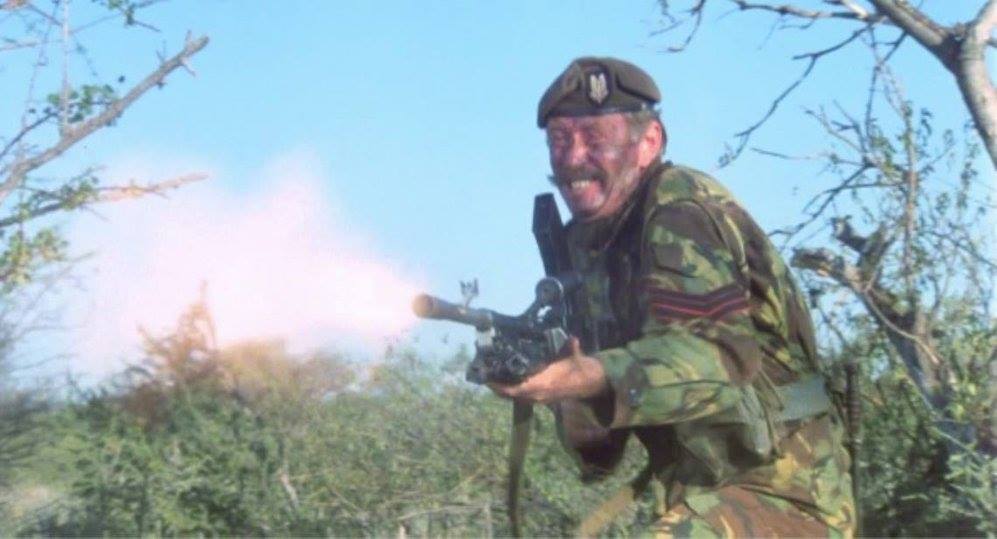 Some news from the South African Legion's branch in the United Kingdom on Ian Yule (the chap seen here playing the tough cockney Sergeant Tosh Donaldson in "The Wild Geese"). Social services in the UK have finally taken him in, he is now in full time care in permanent accommodation. He now also has the support of military charities in the United Kingdom.
Many of us may remember Ian Yule. He acted in many movies , The Wild Geese being the one he is most remembered for, as well as Zulu Dawn and Shamwari. He starred in numerous SABC series in the 80's as well. On The Wild Geese he also doubled up as an on set expert weapons advisor and on set military tactics advisor.
Ian Yule arrived from South Africa as a destitute veteran to the United Kingdom in mid December last year and called for assistance – the Rhodesian veteran community responded arranging for him to immediately be taken him into temporary care.
The case was brought to the attention of the South African Legion in the United Kingdom and the SSAFA. The SA Legion in turn engaged the Royal British Legion to ensure full case worker support was given to him – and that priority accommodation and care be made available. SSAFA case workers took control as did pressure on the local council to stop pushing the issue around – and engage a veteran in need (access to these types of "full" benefits in the UK are very difficult if you have not been resident in the country for some time of which Mr Yule was not).
Mr Yule is a British citizen and was born an orphan before World War 2. He was adopted by a couple who were killed in the London Blitz during WW2, he was then taken in by Americans stationed in the UK. He joined the military as a boy soldier and remained in the military for a significant part of his life – the military has been the only family he knew.
His complete service is rather varied, he is British Armed Forces veteran, who subsequently joined the Rhodesian Armed Forces, became a mercenary in the Congo and then he joined the South African Defence Force.
He joined the British Armed Forces about 1948 – Boys Service, and was mustered as a trumpeter for the King's Troop Royal Horse Artillery at St. John's Wood Barracks. He then posted to the School of Artillery at Larkhill.
According to Ian, he became jump qualified at the Jump School at Netheravon. Subsequently he was sent for Infantry Heavy Weapons training and was stationed at Hythe – Kent.
He maintains he received further training at 42 Royal Marine Commando (Kayak and off/onshore submarine loading), and was posted to Malaya, then was seconded to 41 Royal Marine Commando, which was based at American airbase – Toyoko.
Ian's story picks up again when he was then posted to Korea and took part in the Inchon attack during the Koeran War, on the West coast of Korea. From there he was redeployed and fought at the Battle of the Chosin Reservoir with the American Marines. This is where Ian Yule was captured and taken prisoner, he was a POW of the North Koreans for two and half years.
Upon cessation of the UN War in Korea, he was released, he was redeployed to Egypt, then the Yemen, subsequently redeployed back to Egypt for the Suez Crisis.
This soldier has seen action. He subsequently joined "Mad" Mike Hoare's 5th Commando in the Congo as a mercenary. He also joined the Rhodesian Armed Forces and after that the SADF.
Ian is now incapacitated, with numerous 'war wounds', very bad rheumatoid arthritis, walks with sticks, (but we now have him in a wheel chair), is very hard of hearing (cannot operate a telephone) and has degenerative eyesight. He is also thought to be suffering from on-set dementia. He carries a very bad gun shot wound to the abdomen.
He had moved in a small apartment in Hillbrow and fell into financial despair. Whilst in Hillbrow he was been threatened with his life with little means for proper medical care. Ian Yule arrived in the UK carrying a small carry-on bag with one set of PJ's and walking sticks – nothing else, apparantly he sold his medals for the one way flight ticket.
Jennie Upton from the RAR veterans association picked him up from the airport and he was in a state of incapacity – the Heathrow staff – upon his arrival had parked him in the luggage collection area, and forgot about him for an hour and half. A kind hearted taxi driver who waited for him whilst Jennie endeavoured to find him reduced his fare from £150 to £100 – even then a big hit for Jennie.
In due course, after he'd had tea, he was driven across Graham and Debbie Goodwin, two "good Samaritans" – who opened their small home in West Sussex to a complete stranger and where he stayed for about 6 weeks. Mr Yule had a severe culture shock, he became disorientated and stressed. The Goodwin's got him registered at the local Health Centre. Ian then had heart problems and was hospitalised.
Both Peter Dickens from the South African Legion and Jennie Upton from the RAR Rhodesian veterans association worked to get him into proper care at the same time as advising the Goodwins on courses of action to take as this or that door closed to them.
At the end of the day it was a job well done and he is now – against all the odds and with a steep up hill fight – finally in full time and permanent care.
Well done especially to the Graham Goodwin and Jennie Upton, Bravo Zulu to both of you.