Nov
11
Sun
2018
Cenotaph Parade 2018 @ Cenotaph, Whitehall
Nov 11 @ 08:30 – 13:30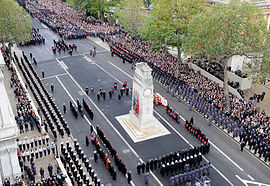 Purpose: This parade is held annually as a day "to commemorate the contribution of British and Commonwealth military and civilian servicemen and women in the two World Wars and later conflicts".
NOTE: Current 2018 Members of the South African Legion are invited to participate in the Cenotaph Parade.
You MUST be a paid up member to wear the SA Legion Insignia.
You will need a ticket in advance to attend this parade.
Please be there by 09:00am as we have done in the past. We will then make our way to the Horse Guards parade ground from around 09:30am.
https://www.google.co.uk/…/data=!4m5!3m4!1s0x487604db8e5d46…
General Information as provided by the RBL
· Horse Guards will be open from 08:00 am
· All contingents must be FORMED Up by 10:00 am
· There is no parking in the area
· Do not bring unnecessary bags, unattended bags cannot be left in the area at any time.
· You must bring a photo ID with you (drivers licence or passport are the only two types accepted).
· If you DO NOT have a photo ID – you are required to bring TWO utility bills to show proof of address (any address carrying Bank Statement, Utility bill, Council bill or HM Revenue bill will be acceptable).
· Those members under 18 years of age can have proof of ID in the form of a Birth certificate or medical certificate.
The post parade function will be at the same place and time as we have done in the past years. Details of Post Parade venue as follows:
The Kings Arms – 2 Shepherd Market, Mayfair, London W1J 7QA