Nation-Building Tribute -Parliament Square
When:
28th April 2018 @ 11:00 – 13:00 Europe/London Timezone
2018-04-28T11:00:00+01:00
2018-04-28T13:00:00+01:00
Where:
Parliament Square
Parliament Square
Westminster, London SW1P 3JX
UK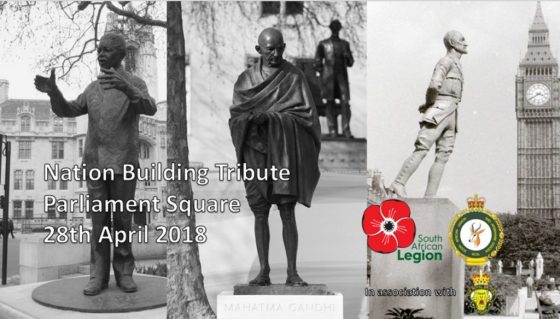 Purpose: In celebrating Freedom Day in South Africa, the South African Legion – England Branch gives tribute to three statesmen whose nation building vision and deeds shaped modern South Africa – Nelson Mandela, Jan Smuts and Mahatma Gandhi, whose statues are all represented on Parliament Square in London as great visionaries of not only South Africa, but also Great Britain and the Commonwealth of Nations.
Commemoration is to take place in Parliament Square, central London for 11:00am on Saturday 28th April 2018.
Address: Parliament Square, Westminster, London SW1P 3JX
We request all standard bearers and veterans on parade to muster at 10:30.