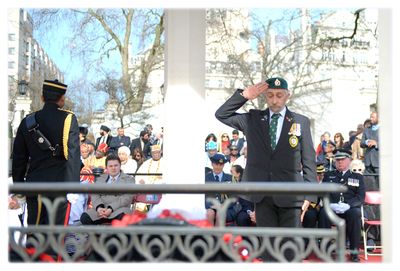 LONDON, 13 March 2017 –Mother Nature clearly smiles on the Commonwealth. On Monday, for (about) the fourth year in a row, the remembrance and wreath-laying ceremony at the Commonwealth Memorial Gates in Green Park, was blessed with (uncharacteristic for London) a mild sunny spring day.
Lr. Theo Fernandes and I met-up at the venue, well ahead of time. He was armed with his customary camera, which he would only surrender (temporarily) later, in order to perform some (even) more important duties.
The Senior Guest of Honour this year was the Ooni of Ife (Nigeria), His Imperial Majesty Ooni Adeyeye Enitan Ogunwusi Ojaja II, who arrived with his entourage in imperial style with heralds and pages.
The organiser told me proudly that this year, the South African Government would be represented by H. E. Ms Baleka Mbete, Speaker of the SA National Assembly. Mrs Mbete arrived shortly after His Majesty, resplendent in traditional Zulu costume (she originally hails from Durban). Theo and I were introduced to her briefly beforehand, as we were the only South African veterans present, and we were treated to a proper meet-and-greet afterwards.
After a short opening address, a Gurkha bugler sounded Last Post, followed by two minutes' silence. After the 'Rouse', a Ghurkha piper played the lament, and Guests of Honour were called by name to lay wreaths.
The first wreath was laid on behalf of HRH the Prince of Wales. Next, out of deference to his 98 years, the representative of the Burma Star Association, followed by the Ooni of Ife, and then Mrs Mbete on behalf of South Africa.
When the turn came for the South African Legion (UK & Europe Branch), the wreath of poppies was laid by Lr. Theo Fernandes (aka The Porra) – a committee decision in acknowledgement of Theo's loyal attendance of the event (6+ years), and his unfailing support for the Branch and his fellow Legionnaires.
Afterwards, guests retired to a marquee where the London Indian community had provided a light curry lunch. We were interviewed by a Sikh documentary-maker and the Sikh TV Channel.
When Mrs Mbete left a short while later, we accompanied her to her car, and enjoyed speaking to her as she waited for the diplomatic Mercedes. She was clearly pleased and surprised to encounter fellow South Africans at such an auspicious event.
Theo and I also met with the Lord Lieutenant of London, leading representatives of the Sikh regiments and community, the Rear-Admiral representing HM Armed Forces and Defence Attaches from Canada and New Zealand.
An interesting meeting was one with the President of the West Indian Association of Service Personnel. His Association are putting-up a memorial to RAF Bomber Command air and ground crew, and want to include the South African names. So watch this space.
Article for the South African Legion by Andrew Bergman
Pictures by Theo Fernandes and (very occasionally) Andrew Bergman