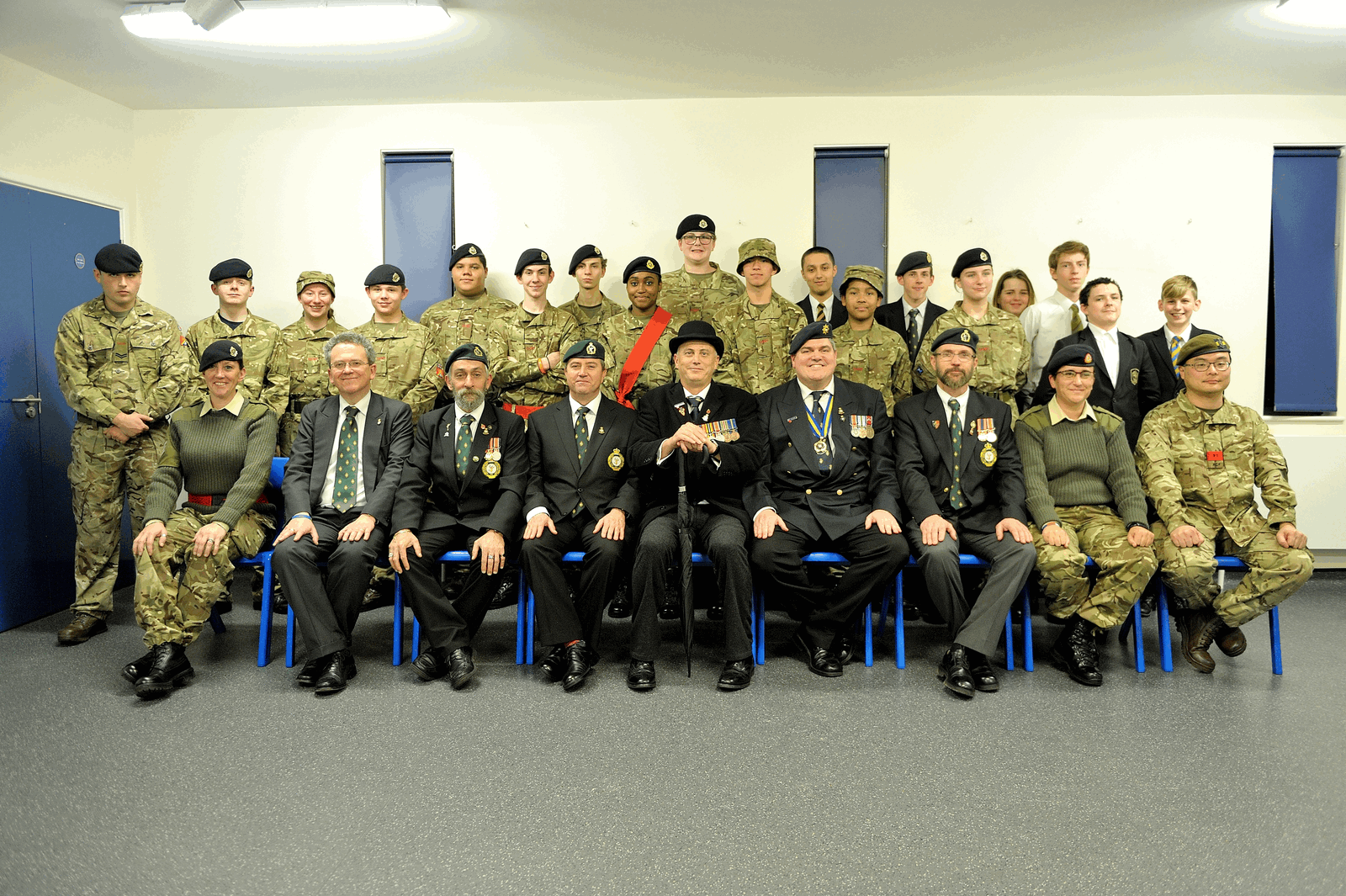 It's not often that I'm moved to writing a post, but felt that I have to share my thoughts on the Royal British Legion – South African Branch's affiliation ceremony with 133 Army Cadet Force in London on 2 December 2015.
This was my first interaction with cadets,(since school) and was a remarkable experience
We weren't 100% sure what to expect on arrival at 133 ACF, but got of to a good start with a warm and cheerful greeting at the gate and directed where to proceed to. (Apologies to the young man on the gate, but his name completely eludes me. Probably because he was directing us to the pub and that information was more important at the time)
A spread of biscuits, cakes and refreshments awaited us and numerous helpful and happy faces to assist. After the niceties were over, and the formalities began I started to realise exactly what 133 is all about.
We were in the company of a good representative group of cadets, from new starters to some old stalwarts of 133. This was interesting as we witnessed the various stages of a youngsters transition from recruit to proud and "Paraat" ouman. To see the pride and unity amongst them was really great. Although unarmed, they are comparable to any Brothers in arms.
While socialising, we had a small glimpse of some of their backgrounds. These young men and women come from all walks of life and have their individual strengths and weaknesses. They also all have their individual home lives full of good luck and misfortune.
It was the sad story of the passing of one of our brothers in arms that was the catalyst to bring the South African Legionnaires and the 133 Cadets together.
This is the "raw" material that Lt Sealy has to work with and from where she tweaks out the best in them.
Such is their enthusiasm ,We were treated to displays of kit and a presentation on their research into the SA military history, with a personal touch by their SA member who's father was a Sapper in the old SADF.
Lt Sealy and her 2ic, Sgt Reynolds, have done an incredible job in transforming these young men and women into the cadets they are now.
Cadet Cpl Black, who could compete with any RSM on drill, is an amazing testament to what can be done. This young man has already been recognised for his ability and was the recipient of a mayoral award for his work in the cadets. I would happily have served alongside men of his calibre during my time in the military. He has already decided that his future lies in the military, and I wish him all the success he deserves. I'm sure that he will rise through the ranks.
However, as was pointed out in the speeches, not all cadets will go on to a career in the military. What was obvious though, was that they will all leave cadets better for the experience. More disciplined and focused people with a better ability to work within a team. They will have experience that will help them to contribute more positively to society.
As I said, Lt Sealy and Sgt Reynolds are doing an incredible job and the evidence was there for us to see. We can be proud to have 133 affiliated to us, and I look forward to future interaction with the cadets.
.
I would urge all legionnaires to make every effort to engage with our new affiliates when ever combined events happen. These youngsters are part of our future, and I feel they have a lot to contribute.
Legion greetings
Graeme
Many thanks to the Legionnaires in attendance – Russel Mattusheck, the Vice Chairman for inspecting the troops and his fine speech and poem. Peter Dickens, the Chairman for the officiating the signing ceremony as well as Theo Fernandes for the photographs and Cassandra Sealy for arranging the entire ceremony. Also thanks to Steve Moritz, Victor Ho, Simon McIlwaine, Graeme Scott, Tony and Ilona Povey
But most all thank you to the Cadets from 133CAF for such a special presentation and becoming part of The Royal British Legion.
(Peter Dickens)